Source: The Voice of Iranian Christians, http://goo.gl/iNqBu6
Translation by Iran Press Watch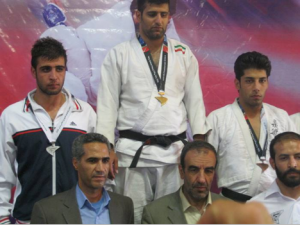 According to reports from the human rights activist group, the Voice of the Iranian Christian News Agency, Hamzeh Raziany, a former member of the Iranian national Jujutsu team, and former head of the Jujutsu Association of Kermanshah province, was suspended from Iran's National Jujitsu Team due to his conversion to the Baha'i Faith. His dismissal from the head of the Jujitsu Association was communicated to him.  Also on Monday 11 August this year, by telephone, he was summoned to the Intelligence and Security office of Kermanshah on Naft Street, which caused his mother to suffer a stress-induced heart attack.  As a result she was admitted to hospital, where a Coronary angiography was performed on her.  Based on reports, this promising young athlete from our National Team has left the country due to pressure from the Intelligence Office because he changed his religion.
Letter:
In the Name of God
Mr. Hamzeh Raziany, head of the Jujutsu Association of Kermanshah province:
Greetings;
Subject:  Dismissal
Because of your belief in the deviant sect of Baha'ism, and as a result of this disciplinary letter which has been approved by the members of the association, and as a consequence of utterances by the Supreme Leader on the impermissibility of any type of cooperation with the members of this deviant sect, which would be illegal and also unlawful from a religious point of view, the members of this association declare your lack of qualification, and therefore are issuing orders for your dismissal from your post as the head of Jujitsu Association, which has been approved by these members. Beginning 10 May 2013 you no longer hold any supervisory position with the Province of Kermanshah , nor is any supervisory activity on your behalf allowed contrary to the wishes of the members of the association, as it would result in your prosecution according to the law.
Signed by:
The Head of Jujitsu Association for the Western Regions of the Country – Haj Qazvin Baraty
Head of the Disciplinary Committee of Jujitsu for the Western Regions of the Country – Jahanbakhsh Dejagah
Jujitsu Association's Secretary Generals for the Western Regions of the Country – Haj Masoud Soleimani
Head of the Committee for the Coaches of Jujitsu for the Western Regions of the Country – Behnam Kazemi
Head of the Committee for the Referees of Jujitsu for the  Western Regions of the Country – Hamidreza Shahmoradi
Signed again by: The Head of Jujitsu Association for the Western Regions of the Country – Haj Qazvin Baraty and STAMPED/SEALED