Source: www.farzanfaramarzi.com/2014/09/blog-post_12.html
Translation by Iran Press Watch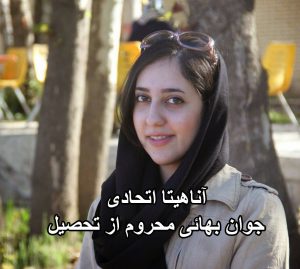 A Baha'i student who has been deprived of education in Iran, Anahita Ettehadi, has sat for her exam, after registering for National University Entrance Exam in the month of Tir, 1393 (June/July, 2014). On the date when the exam results were released, on 12 Khordad (2 June), after checking the website, Miss Ettehadi could not find her result and was asked to present herself to the Examination Organization located in Karaj for the reason.
After pursuing the case in the above office, she was not given any written document explaining the reason why her result was withheld, as the document was considered to be classified. After she become aware that the document gave as the reason because she was a Baha'i, Anahita Ettehadi took her case to the Ministry of Higher Education and lodged a petition challenging the illegal move by the Examination Organization. This petition went unanswered.
Refusing to give up the case, Ettehad, lodged another petition against the Examination Organization detailing the department's unlawful decision based on the idea that only followers of one of the recognized religions (Islam, Christianity, Zoroastrianism and Judaism) can continue their education. She expressed that the rejection of her entrance exam to university is contrary to paragraphs 19, 20, and 23 of the Iranian Constitution*. Her petition was sent to the High Court of Justice and the Ministry of Justice, but so far her effort has proven futile.
* From the official Iranian Government translation: www.iranonline.com/iran/iran-info/government/constitution-3.html
Article 19
All people of Iran, whatever the ethnic group or tribe to which they belong, enjoy equal rights; and color, race, language, and the like, do not bestow any privilege.
Article 20
All citizens of the country, both men and women, equally enjoy the protection of the law and enjoy all human, political, economic, social, and cultural rights, in conformity with Islamic criteria.
Article 23
The investigation of individuals' beliefs is forbidden, and no one may be molested or taken to task simply for holding a certain belief.