Source: Bahai International Community, United Nations Office, goo.gl/f2n42S
NEW YORK—24 September 2014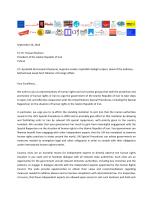 An ad hoc coalition of human rights organizations is asking Iranian President Hassan Rouhani to honor and facilitate requests from the United Nations to allow special independent human rights monitors to visit Iran.
The request, in a letter dated today and signed by representatives of 26 civil society organizations, comes on the eve of President Rouhani's address to the UN General Assembly, scheduled for Thursday morning.
"We write to you as representatives of human rights and civil society groups that seek the protection and promotion of human rights in Iran to urge the government of the Islamic Republic of Iran to take steps to open, full, and effective cooperation with the United Nations Special Procedures, including the Special Rapporteur on the situation of human rights in the Islamic Republic of Iran," states the letter, which can be read in full here.
"In particular, we urge you to re-affirm the standing invitation to visit Iran that the Iranian authorities issued to the UN's Special Procedures in 2002 and to promptly give effect to that invitation by allowing and facilitating visits to Iran by relevant UN special rapporteurs, with priority given to the country mandate," says the letter.
Those signing the letter include Hassiba Hadj Sahraoui, Deputy Director of Middle East North Africa Programme, Amnesty International; Diane Ala'i, Representative to the United Nations, Baha'i International Community; Dr. Shirin Ebadi, Founder and President, Center for Supporters of Human Rights; Sarah Leah Whitson, Director of the Middle East and North Africa Division, Human Rights Watch; Mani Mostofi, Director, Impact Iran; Hadi Ghaemi, Executive Director, International Campaign for Human Rights in Iran; Rod Sanjabi, Executive Director, Iran Human Rights Documentation Center; Mehrangiz Kar, Chairperson, Siamak Pourzand Foundation; and Firuzeh Mahmoudi, Executive Director, United for Iran.