Source: cshr.org.uk/human-rights-portal
Centre for Supporters of Human Rights*
Human Rights Magazine – News 
Translation by Iran Press Watch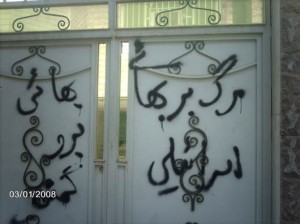 Centre for Supporters of Human Rights, Narges Tavassolian:
A number of credible sources have reported intensifying harassment and persecution of Baha'i citizens in the city of Semnan. Based on these reports, more than 50 per cent of the Baha'is in this city don't have the right to earn a living. Nearly 30 per cent of the city's Baha'is are either incarcerated or involved in lengthy interrogations by the Ministry of Information. More than 15 work permits have been revoked and the doors of Baha'i owned shops have been sealed.
In addition, two factories in Semnan's industrial town have been closed and their employees have lost their jobs. One of these factories is Pooya Navar Manufaturing Company, which had been a manufacturer of vertical blinds and had close to 50 employees. The owner of this company was a Baha'i, but the workforce included both Baha'is and Muslims. The other company is Farzan Lens Factory, which made eyeglass lenses. The owner of this company was Mr. Afrasiab Khanjani, who is a citizen of Semnan; it had more than 15 Baha'i and Muslim employees. Not only was the door of this company sealed, but also all the machinery has been auctioned off, sold at the lowest price, and all the automatic devices that had been imported from Germany were delivered to the lowest bidders. The executor of these actions was Semnan's Suspension Office, which works under the guidance of Semnan's Information Office.
Looting of Baha'i stores
In one case the Locations Office, which also works directly under the direction of Semnan's Information Office, closed an optometry store owned by a Baha'i by the name of Pour-Hosseini under the allegation of selling illegal merchandise or not possessing a work permit. Nearly 200 million Toman (approx $75,000) worth of merchandise was looted which not only was never returned but also the owner was fined 360 million Toman (approx $135,000). This case is currently being reviewed by the appeals court.
Insulting the dead and the living, and the destruction of property 
In October 2011, the Semnan Information Office conducted a seminar for all first and second level managers working for various entities (ranging from government agencies to preschools). Conversations in this seminar focused on condemning and identifying Baha'is. The participants and residents of Semnan were banned from having any connection or relationship with any of their fellow Baha'i citizens of Semnan. Moreover, it was mentioned that their ultimate goal was to force all Baha'is to leave the city. This seminar was followed by similar proceedings in which Semnan's citizens were warned not to have any relations with Baha'is. Although many of Semnan's citizens have expressed sympathy, they are afraid of repercussions and prefer not to have any dealings with Baha'is.
In addition to these cases, Semnan's Baha'i cemetery, called the "Eternal Garden", has been desecrated several times, its mortuary desecrated and its trees cut down.
Writing graffiti against Baha'is throughout the city and on the doors and windows of Baha'i homes has been an ongoing activity. Water tanks owned by Baha'i farmers and shepherds have been sealed and their irrigation dams have been destroyed.
In sum, the Baha'i citizens of Semnan have been under considerable emotional, psychological and financial pressure since these problems started 6-7 years ago. Baha'i children have also had their share of these pressures. They do not have any emotional or psychological security outside the home, and have developed chronic fear, which has resulted in long-term psychological damage.
According to eye witnesses and credible sources, Baha'i children are not allowed to register in good public schools, or even in private schools, Semnan's K-12 Allameh Amini School,the Bagher Al-Olom school, the school for gifted students, or the Refah K-12 school. Mr. Nassiri – the principal of Allameh Amini high school – has openly stated that based on the edicts of their clergy they have been prevented from having any connections with Baha'is, and that they have been told that it is a religious sin for them to accept money from Baha'is.
Incitements of the Imam Jomeh (religious leader) of Semnan against Baha'is
The intensification of this harrasment may well be attributable to the provocative sermons of Seyyed Mohammad Shah-Cheraghi, the Imam Jomeh of Semnan, some of whose talks have included such statements as: "Every Muslim is obligated to stop all dealings with the followers of this cult and to avoid any illegal and informal alliance with these individuals"; "If the people of Iran decide, they can uproot Baha'ism in this country the same way they toppled the Shah's Regime"; "Baha'ism was created by the oppressor Israel – its center is in that country, and it has no goal but espionage."
In addition, through a series of sudden and systematic raids agents of the Ministry of Information entered the homes of 20 Baha'i families in 2008, and confiscated all their belongings, religious books, prayer books, photos, CDs, computers and ….
* The Centre for Supporters of Human Rights has a website here: http://cshr.org.uk/en/