Source: www.roozonline.com
Translation by Iran Press Watch
Thursday 27 November, 2014
Mother prominently absent from daughter's wedding
Fariba Kamalabadi, who has been sentenced to twenty years of prison for being a  member of the Baha'i Yaran (informal leaders of the Baha'is of Iran − the "Friends"), has not been given permission to attend her daughter's wedding.  This mother, who has spent the past seven years in prison, has not been given a single day's leave so far.  Mrs. Kamalabadi had even requested to be present at the wedding ceremony of Taraneh, her daughter, with hand cuffs, but her request was denied − hence the attendance of the mother at her daughter's wedding was instead replaced by a letter, the text of which has been provided to Roozonline.  In this letter, which was read at the wedding ceremony, she spoke of her suffering and asked: "What are they afraid of that leads them to not allow a mother to attend her own child's wedding?
The text of the letter is as follows: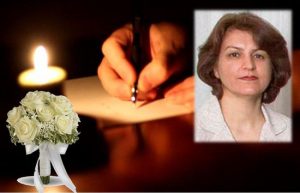 My Taraneh, my beautiful bride
At this moment, in which I am holding a pen and writing, a sea of joy is stirring within me, waves of delight are pounding on the shore of my heart.  Some may believe that pain and suffering are continuously accompanied by sorrow and grief, but this is not the case.  It is possible to fly in a limitless sea of joy, and fly in the blissful skies while at the height of pain and suffering.  What is this pain and what is this joy?
This pain is the pain of being apart, the pain of a mother being far from her child for these many years, without the aid of the tongue which creates loving poetry for her. In her thoughts has held her tight and given her warmth; without the use of her eyes she has witnessed her growth, and now with the eye of the soul she is observing her all elegant and graceful in a white wedding gown.
This pain is the pain of being apart, the pain of a child who has been separated from her mother, who without getting her fill of the right to have a mother has nevertheless grown and developed.  In bitter moments of life when she needed the warmth of a mother, she did not have her by her side. Now also, at these most glorious moments of her life, at her wedding ceremony, she finds her mother's place empty.
This pain has a pleasant fragrance, because it is filled with the fine perfume of joy; this joy is the joy of a mother who finds her child to now be a graceful youth, determined and steadfast, her conduct serene, her choice extraordinary, her dreams lofty; and who admires her choice.
This joy is the joy of a child who discovers the meaning of being far from one's mother, and who by taking steps in the path of service enriches this meaning − now hand in hand with Farid she threads the path of service steadfastly.
My dear Taraneh and Farid-
I know you will forgive me for my faults.  I know you will accept my excuse for not being present in these most joyful moments of your life.  You well know that I am with you with every fabric of my being, every cell of my existence, and my prayers fill the atmosphere of your ceremonies.  You are aware that I employed every effort in order to attend; you know I asked for leave to attend your wedding, and today after seven years of imprisonment, even on such a special occasion, they did not approve my request.  You are aware that upon rejection of my request for leave, I requested to be sent there for just a few hours with handcuffs, and accompanied by officials.  Even my cellmates submitted written requests to the officials in this regard.
Although the initial agreement with my request brought immense joy and hope, and you tried to change your plans and adjust to the new circumstances, after just a few days the request was rejected.  After this rejection was announced, when I left their office, they sent for me again and promised to consider my third request, which was to hold the wedding ceremony at Evin Prison.  Plans were approved to designate a room in the sentencing building for us to hold the ceremony with the attendance of a maximum of ten people, and I informed you of this final decision via a phone call.  Although you were saddened to hear that they rejected the idea of sending me to you, you nevertheless trusted the promise of those in charge regarding this last option, and clinging to this opportunity, you changed your plans to the new arrangements; however they finally informed me that they had rejected this third option as well − this is how I was deprived of being present at the most precious moment of one's life.
Do you see the level of transparency in treating prisoners?  And what surreptitious torturous methods are employed?  As if they are dealing with a lifeless object such as a stone or a piece of wood such that no matter how you strike it, play with it or throw it here or there, it would not feel anything. (But they are deeply wrong − because at that time, it is not us but it is they, themselves, who are just as stones and pieces of wood, and devoid of any humane feelings, and hence are incapable of comprehending the profound feelings between a mother and her child.)
What are they afraid of? Are they afraid of a mother who has to spend twenty years of her life in prison only having committed the crime of believing in the Baha'i Faith, and who after having spent seven years in prison has to be deprived of participating in the wedding ceremony of her child just for a few hours?  My crime is the most beautiful crime in the whole world.  It is a crime of which not only I but all future generations will be proud.  It is a crime for which over the annals of history, all the saints and prophets have suffered great distress, as well as severe calamities due to the same crime.  My crime is to worship the One God, and to acknowledge the truth of all God's religions.   My crime is to work to bring about the principle of the unity of mankind, and universal peace.   My crime is to cultivate a longing to serve humanity in my mind, and a love for all human beings in my heart.  My crime is to make efforts to revive our sacred country, Iran, and to promote its honor and exaltation.
Let me tell you more about joy again, how with its radiance and unparalleled sparkle it renders any emanation of pain and suffering dim, and even banishes it altogether.
My lovely Taraneh- if you were seemingly deprived of the bounty of having a mother, you have instead been graced with an added blessing, of an even kinder mother, another Fariba who embraced you lovingly.  The same way that you have been blessed by the open embrace of many other mothers: Alia Zarinkar, Firooza Ouladi, Fariba Eshraghi, and many other dear ones, and now with an incapable pen, and inadequate words, honor their love and sacrifice.
Another reflection of joy and happiness is mine: Although I may have been deprived of my life with my two daughters, I have been honored by the presence of other beloved daughters here, of whom I and all of Iran and Iranians may well be proud.
Individuals with matchless nobility and capacities who have spent the days of their lives, their talents, and their youth in prison, in exchange for gaining pride and honor for our dear Iran.  This is the reality of our ideals:  The world must become one family, and human interactions become loving like the interactions between mothers and daughters, fathers and sons, and brothers and sisters.
November 2014
Evin Prison