Source: hra-news.org/fa/religious-minorities/b-496
Translation by Iran Press Watch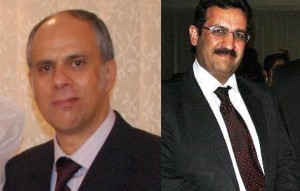 HRANA News – Navid Haghighi and Shahram Fallah, who have each been sentenced to prison terms of three years, reported to the Arak and Kerman prison systems to start serving their sentence.
These two Baha'is, along with eighteen other Baha'i individuals, were collectively sentenced to 58 years of incarceration.
According to HRANA – Human Rights Activists News Agency in Iran – Navid Haghighi, a resident of Arak, reported to prison on Saturday 31 January to serve his three year prison term.
Also, on the same day, Shahram Fallah, a resident of Kerman, reported to prison to serve his sentence.
These two Baha'i residents are the first two who reported to prison of a group of 20 Baha'is who have been sentenced.
Also today, three other Baha'is, by the names of Farah Baghi, Mehran Eslami, and Fariba Ashtari, received verdicts, and have to report to Yazd Prison by 16 February – these three are residents of Yazd.
Farah Baghi and Mehran Eslami were sentenced to two years of mandatory imprisonment and an additional year open to possible early release.
On August 1, 2011, Ministry of Intelligence and Security officers attacked the homes of several Baha'is in the cities of Yazd, Isfahan, Kerman, and Arak, and detained 17 Baha'i individuals.  After two weeks, they detained an additional three Baha'is in the city of Yazd.
All of the detained were released from prison after about one month, after posting a sum of one billion two hundred thousand tomans in bail.
After about a year, these 20 Baha'is were sentenced to a collective 58 years of prison by the First Branch of the Revolutionary Court of which 38 years should be served in full.