Source: hra-news.org
Translation by Iran Press Watch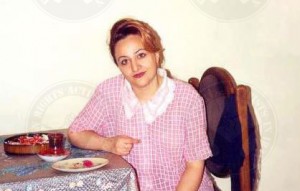 HRANA – Fariba Ashtari, a Baha'i resident of Yazd, started her two-year sentence on Saturday at the central prison of the city. She is the fourth of the the twenty Baha'is in the province whose sentence has been carried out.
According to HRANA Press, the news portal of Human Rights Activists in Iran, on Saturday, 21 February 2015, Fariba Ashtari, a Baha'i resident of Yazd, presented herself to serve her two-year imprisonment at the city's central prison. In addition to the prison sentence of two years, she is sentenced to one year of a suspended sentence.
It is worth noting that she is the fourth Baha'i of twenty-four for whom the revolutionary court of Yazd has carried out their sentences, based on charges of propaganda against the regime and membership in the Baha'i community. Before Fariba Ashtari, in recent weeks, Farah Baghi, Navid Haghighi and Shahram Fallah were other Baha'is who have been transferred to prisons in Yazd, Kerman and Arak to begin their sentences.