Source: www.roozonline.com
Translation by Iran Press Watch
Excerpts from Bahman Ahmadi Amouee's report on Prison Conditions
Fereshteh Ghazi
Thursday, January 29, 2015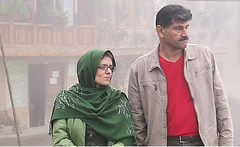 From the moment he was arrested together with his wife at midnight on June 20 2009, until October 4 2014, he spent more than 5 years and 4 months in prison. Now that he has been released, he says he is embarrassed by his freedom. He talks about inmates "who have been left in prison, who have been forgotten by the judicial system, forgotten by their families and even forgotten by God". He talks about inmates "who woke up one day and had lost their eyesight, and a week later lost their lives in front of other inmates; or those who have been afflicted by Alzheimer's Disease and don't recognize anyone; prisoners who have not had a single visitor for more than 10 years, and no attorney is willing to accept their cases." These are prisoners about whom Bahman has written for the first time after his release.
Bahman Ahmadi Amouee (1), a well-known economic journalist, was imprisoned for writing articles critical of the economic policies of the Iranian government, and for publishing a poem by the famous Iranian poet Ferdowsi. The economic criticisms that he wrote a few years ago are now mentioned by many minor and major officials in the country and by members of parliament. He has been free for a while now, after spending 5 years and 4 months in prison. Who is Bahman Ahmadi Amooye and how does he define himself? I have spoken to him ― he is currently narrating the stories of the pain of the prisoners with whom he lived for more than 5 years and 4 months. This interview is Bahman's story of Evin and Rajai Shahr prisons.
You experienced solitary and public confinement for more than 5 years. Can you tell us what was most shocking to you when you first entered prison? Also, what were your initial impressions of prison and prisoners, and how was that experience? 
The reality is that it was a new world for me. I was a journalist whose topics revolved around socio-economic issues. I always tried to address the issues more deeply than was customary in Iranian journalism. My wife, Jila Baniyaghoob (2), and I wanted to produce various reports of people's lives from different angles. For example, Jila was interested in doing a report on the condition of suicides at Loghman Hospital [on Kamali Street in Tehran], but we had no access to the hospital. I also remember that many of our friends and colleagues wrote numerous letters hoping to do reports on the condition of prisons and prisoners, but they never succeeded. However, events after the Green Movement created oppportunities for people like me, who were journalists, social, political and feminine activists to enter a closed arena that was not open to them before.  This truly caused all of us ― not just me, but other friends who reported and talked ― to gain a new vision. I personally had never thought that individual and societal problems in Iran were so deeply rooted.  Before this, if they had told me about conditions in the Islamic Republic's prisons, I may have viewed the report with doubt and suspicion. However, I have now seen these things with my own eyes, and am so sorry that I as a journalist and other socio-political activists noticed these problems so late, and never realized the extent of them until we were actually in prison. Our view of human rights was extremely limited. For example, I remember when Mr. Moeen introduced a discussion on human rights during the 2005 elections the most important human rights topic brought up by his campaign was the restrictions and pressure on bloggers and journalists. I remember that some friends mentioned other aspects of human rights such as the economy, housing, education, hygiene, etc. should also be addressed, but no one was paying attention. We were all politicized. Going to prison helped me, at least, to have a realistic view of the problems people deal with.
What was your reaction to these problems? Can you talk about the prisoners and the conditions in prison that caused your outlook to change? 
My imprisonment had three different phases: the first was in section 209 of the Ministry of Information at Evin Prison, the second in section 350, and the third when I was transferred to Rajai Shahr Prison. Each had its special conditions and was a unique experience as I got to know different people under different circumstances. The last phase was the best period of my imprisonment as it afforded me a deeper look at the prisoners and a richer experience. There, individuals with different political and belief systems who were in different age categories and were serving different sentences were living together. We had prisoners who had been on death row for 15-16 years. An example was the late Alireza Karami Kheirabadi (3) who passed away. Imagine someone being on death row for 16 years or having a life sentence. And there are people who have been forgotten. I have already written about old inmates who have been in prison for 15-20 years and are over the age of 60-70 or even 80. There are individuals who are extremely vulnerable, both physically and emotionally, and cannot endure imprisonment based on forensics records. It is truly regrettable. Ideologically speaking, there were some who were part of the Mojahedin-e-Khalq (MEK)(4), some were Baha'is and others were Kurds. The Kurds had an inclination toward the Democratic Party of Iranian Kurdistan (PDKI)(5) 15-16 or 20 years ago and got life sentences for that. Examples are Mr. Mohammad Nazari (6), Mr. Omar Faghihpour and Mr. Faed Fereydooni (7). These people had a hard time speaking Persian, and were so vulnerable that did not have the ability to manage their personal affairs in prison. I sadly weigh in the burden and cost to the Islamic Republic if these individuals were released, versus the political, social, security and economical cost of keeping them in prison. If these individuals were released today, they would not be able to communicate with anyone in society, as they have been away while so many economic, cultural, social and political developments have occurred. Or, for example, the Baha'i prisoners were truly lovely people. Observing them made me truly sad. They were the most oppressed among all the prisoners. They had neither thought of overthrowing the Islamic Republic, nor had they opposed the regime in the political arena nor participated in any political rallies. In the past 30 years, each of the other groups ― the Mojahidin-e-Khalq, Fadayan (8), Komalah (9), Democrats, etc. ― were involved in conflict, carnage and elimination of opposing groups. However, these Baha'is not only had no negative impact but also were most beneficial for Iranian society. They were entrepreneurs, were economically active, with no assistance founded a university and educated their own children because they had been deprived of a university education. And educated them very well! So they were arrested and put in prison! The real question is, why are they in prison? What is this "National Security" that we are all accused of acting against? What is it that has caused so many people with different intellectual trends and various ethnicities to be held in captivity?
_____
1. For more on Bahman Ahmadi Amouee, see http://en.wikipedia.org/wiki/Bahman_Ahmadi_Amouee and http://www.iranhumanrights.org/2011/05/campaign-free-amouee/ 
2. A description of Jila Baniyaghoob is here. She is as active and famous as her husband: http://en.wikipedia.org/wiki/Jila_Baniyaghoob
3. The circumstances of Alireza Khairabadi's death are shown here: http://universaltolerance.org/en/what-we-do/reports/item/79-death-of-a-political-prisoner-shackled-and-handcuffed-in-a-hospital-who-is-responsible
4. The Mojahedin-e-Khalq is described here: http://en.wikipedia.org/wiki/People%27s_Mujahedin_of_Iran
5. The Democratic Party of Iranian Kurdistan is described here: http://en.wikipedia.org/wiki/Democratic_Party_of_Iranian_Kurdistan
6. Mohammad Nazari has been in prison for 20 years, going so far as to sew his lips shut at one point during a hunger strike: http://sharifbehruz.com/?p=2445
7. Omar Faghihpour and Faed Fedeydooni are described among others in http://www.hrw.org/zh-hans/node/126096/section/8
8. Fadaya-e-Islam: http://en.wikipedia.org/wiki/Fada%27iyan-e_Islam
9. Komalay Shoreshgeri Zahmatkeshani Kurdistani Iran (Organization of Revolutionary Toilers of Iranian Kurdistan) – the Kurdish branch of the Communist Party of Iran: http://en.wikipedia.org/wiki/Komalah