Source: Population of Combat against Educational Discrimination (P.C.E.D.)
Translation by Iran Press Watch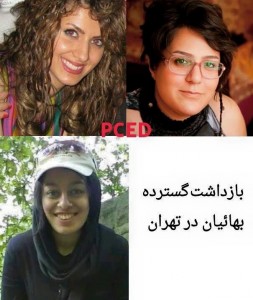 On the 16th of February 2015, security forces raided and searched Baha'i citizens' residences in Tehran. After the raid and search, five Baha'is, Elham Karam Pisheh, Mona Mehrabi, Safa Forghani, Mehrdad Forghani and Mrs. Akbari, were arrested.
According to the reports received by the Human Rights arm of P.C.E.D., yesterday, at about six in the afternoon ofn16 February, after a thorough search and inspection of Sassan Yadegar's house, all books, computer hard disks, mobile phone and electronic tablets were seized. They had arrest warrants, and so arrested Mona Mehrabi and Elham Karam Pisheh and demanded that visitors at the house sign undertakings not to participate in Baha'i meetings.
Security guards also went to the home of Mr. Ehsan Yadegar, Sassan's brother, seized some gold coins and asked him to present himself to the public prosecutor's office in Varamin (the capital of Varamin County in Tehran Provine).
In addition to these arrests, yesterday security guards raided many other Baha'i houses; after confiscating books and laptops, they also arrested Safa Forghani, Mehrdad Forghani and Mrs. Akbari.
On the same day, a raid was carried out at the home of Mrs. Arghavan Eshraghi.  Although they had an arrest warrant for Mrs. Eshraghi, they could not make an arrest as she was not home; nevertheless, all her books and her laptop were confiscated.
Based on the announcement of the security forces, the Baha'is who were arrested were sent to the 33rd Branch of the Public Prosecutor's office in Evin Prison (entitled Holy Martyr) and will be sent to the Varamin Prosecutor's Office for further action.