Source: Saham News
Translation by Iran Press Watch
25 February 2015
In recent days a number of anti-Baha'i posters have been displayed in Tehran metro stations. The propaganda and the simultaneous arrest of 14 Baha'is in Tehran and Isfahan in the last two weeks attest to a new wave of pressure on this group and its adherents.
Saham reports that according to the propaganda posters, Baha'is are members of a cult devised by imperialist powers, whose aim is to spy and to change the culture and religion of the people of Iran, specifically Shiite Muslims. The posters can be seen in most of Tehran's metro stations.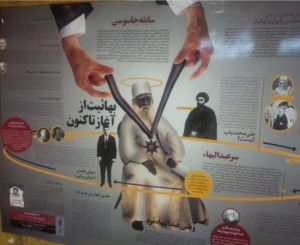 Concurrently, extensive anti-Baha'i programs are being aired on radio and TV carrying the same message: accusations of cultism, spying and propagation of immorality.
Faranak, a 31-year-old Baha'i woman, says, "I was shocked to see the poster in the metro station. I didn't expect them to treat us this way. Although we have become used to harsh and offensive treatment over the years, these posters are alarming; they make us wonder after all these years of persecution and imprisonment: what more are they going to do to us?"
At present more than 130 male and female Baha'is are in prison; most well-known among them are the seven leaders of the Baha'i community of Iran who were sentenced to 20 years in prison, who are now serving their seventh year. Also in prison are facilitators and members of the faculty of the Baha'i Institute for Higher Education (BIHE), who are serving sentences of 3-5 years for starting the Baha'i open university.
During the last 30 years, Baha'i youth have been denied access to higher education in government-run universities in the Islamic Republic. Although during the presidency of Mohammad Khatami there was some easing of these abuses, the trend did not continue. With the accession of Ahmadinejad's government, the persecution and human rights abuses increased.