Date: March 13, 2015
Source: hra-news.org
Translation by Iran Press Watch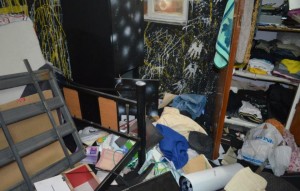 HRANA News Agency – As part of continuing inspections of Baha'i citizens' homes in Shiraz, Arash Kayedi's home was inspected and his personal items confiscated.
Based on news received by reporters from HRANA – the news agency of Human Rights Activists in Iran – within the past few weeks security agents in Shiraz have been inspecting the homes of Baha'i citizens in Shiraz, and have confiscated their personal belongings during the process.
Two days ago, Shiraz' security agents went to Arash Kayedi's home and confiscated his personal items while doing a complete inspection of his home.
It should be mentioned that while their homes are being searched, these agents tell the citizens that they should stay in town to be summoned to the Information Office for interrogation, if necessary.
Within the past month the homes of more than 20 Baha'i citizens of Shiraz have been searched by security agents; after a complete inspection, all their books, pamphlets, photographs related to their beliefs, computers, laptops and cell phones have been confiscated.