Source: Baha'i World News Service 
22 March 2015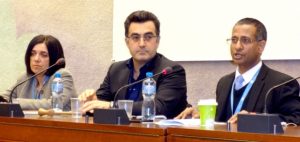 GENEVA — A high UN official has praised the film "To Light a Candle", a documentary film on the persecution of the Baha'is in Iran, as an important effort in making better known the plight facing young Baha'is who are being deprived of access to higher education in Iran.
Speaking at a side event to the 28th session of the United Nations Human Rights Council on Wednesday, UN Special Rapporteur on human rights in Iran, Ahmed Shaheed, commended the film, stating that "it is important to use a medium as accessible as a movie documentary to convey the message about rights".
Speaking to the audience after the screening, Dr. Shaheed commented: "I consider the Baha'is to be the most persecuted minority in Iran."
"I am quite distressed by what appears to be a systematic policy of discrimination against Baha'is, including in the education sector," he further stated, adding that the policy is quite explicit, to the extent that Baha'is are expelled from university if their religious beliefs become known.
Also present at the showing was the film's director, Maziar Bahari, an Iranian-Canadian journalist and filmmaker who was imprisoned in Iran in 2009.
"I am not a Baha'i, but I care deeply about the situation of Baha'is in Iran and human rights in general in Iran," said Mr. Bahari.
"Throughout the past 35 years, whenever we see that the situation in Iran has become more repressive, we've seen that the first victims of this repression are the Baha'is," said Mr. Bahari. "As Dr. Shaheed rightly said, the Baha'is are the most persecuted minority in Iran, and as such they are a barometer of what is going on in Iran."
The screening of the film was sponsored by the Baha'i International Community and the International Federation of Human Rights (FIDH).
Country representatives, NGOs, human rights activists, and other groups participating in the sessions of the Human Rights Council attended the event.
"To Light a Candle" highlights the peaceful and constructive response of Baha'is to a longstanding ban on their youth from attending universities, one dimension of a comprehensive, government-sponsored campaign of persecution of the Baha'i community in that country.