Source: www.facebook.com
Translation by Iran Press Watch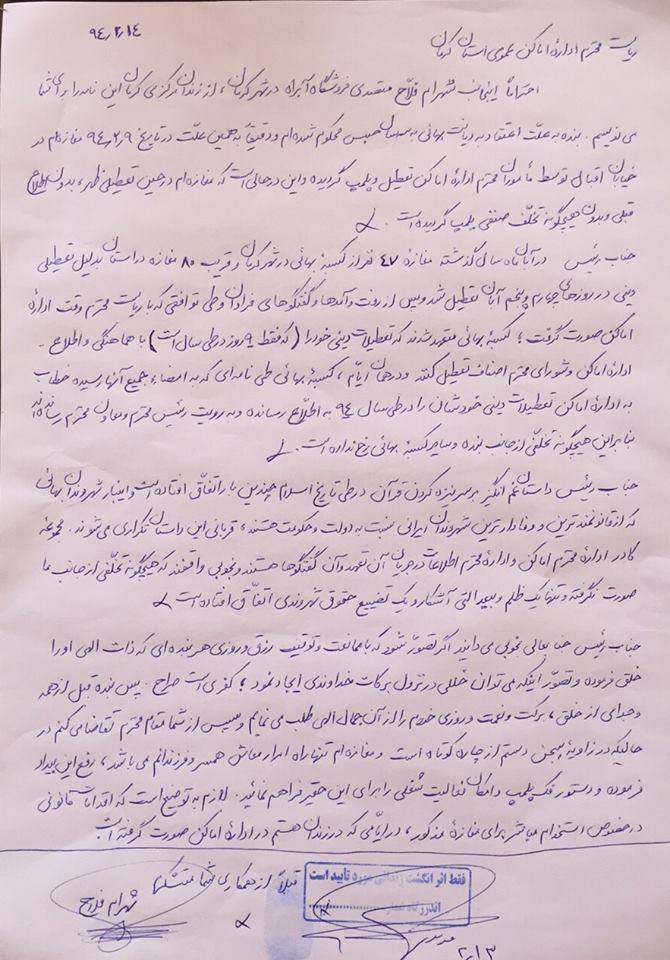 May 4, 2015
To the Director of the Department of Public Places in the Province of Kerman,
With respect: I, Shahram Fallah, the manager of Abrah Store in the city of Kerman, am writing this letter from the central prison of Kerman. I have been sentenced to three years imprisonment because of my belief in the Baha'i Faith; my store on Eghbal Street has been shut down and sealed since April 29, 2015 for exactly the same reason. My store was sealed without any prior notice or any violation of business laws while it was closed for lunch.
Dear Sir: in October of last year 47 Baha'i owned stores in the city of Kerman and nearly 80 such stores in the province were shut down because these business owners had closed their stores on October 26th and 27th due to Baha'i religious holidays. After several meetings and discussions and based on an agreement with the director of the Department of Public Places at the time, the Baha'i business owners pledged to close their stores on their religious holidays (which are only 9 days a year) after informing and coordinating with Department of Public Places and the Trades Council. Consequently, in a letter addressed to the Department of Public Places and signed by the Baha'i business owners, which was reviewed by the director and the assistant director, they informed your office of the dates of all their religious holidays in 2014. This means that no violation has occurred, by me or by any other Baha'i business owners.
Dear Sir: the sad story of putting the Quran on a spearhead has occurred throughout Islamic history several times. This time, Baha'i citizens ‒ who are among the most law-abiding and loyal of all Iranian citizens toward the government ‒ are victims of this repeated story. The entire cadre of the Department of Public Places and the Ministry of Information knew of the discussions and the pledge, and are well aware that no violation was made by us ‒ what has occurred has merely been an obvious oppression, injustice and violation of civil rights.
Dear director: you know very well it is clear blasphemy to imagine one can stop the blessings of God by preventing and suppressing the livelihood of any one of God's creatures. Therefore, first and foremost I ask the Divine Beauty to bestow upon me blessings and livelihood; then, while I am in prison and have no other recourse, I ask you to undo this injustice and order the removal of the seal from my store, which is the only means of subsistence for my wife and children. It should be noted that legal steps have been taken with the Department of Public Places to hire a manager for the subject store while I have been in prison.
Thank you in advance,
Shahram Fallah