Adelaide, 19 May 2015
By Amin Tavakoli (1)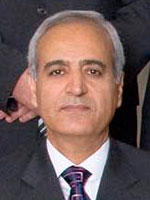 This month my younger brother, Behrouz Tavakkoli, completed seven years of an unjust 20-year sentence for being part of the seven-member Baha'i leadership group in Iran. He remains in prison.
Like his colleagues, who also have been jailed for the same period, he has lived a life of service to others, has never been involved in politics and has always been law-abiding.
Summing it up, he is in jail solely for his faith, for his Baha'i beliefs in the unity of the world religions, the equality of women and men, and the unity of humanity.
A seven day campaign, 14-21 May, is calling for the release of the seven leaders. The theme is "Seven days in remembrance of seven years in prison for the seven Baha'i leaders."  The hashtag is #7Bahais7years
Devotional meetings praying for this group are being held across Australia, including in my city of Adelaide.
Honour
Rather than imprisonment, Behrouz deserves to be honoured in his country, as he would be anywhere else for his life's work.
He is a devoted husband, a father of two sons, a university lecturer and a psychologist who has dedicated his career to helping mentally and physically ill children.
But my brother's hands which once spent their days helping disabled children are now holding the cold bars of a jail cell. His tongue that once gave voice to the vision of a harmonious future for humanity is now silent within cold, concrete walls.
I know that despite this, his heart continues to play the melody of the love of humanity. However, my worry is that in the severe conditions of the jail, his health may deteriorate to such a degree that his heart might soon become mute.
In the name of justice and humanity, I call for the release of my beloved brother, and all the other innocent people imprisoned in Iran today.
1. Adelaide businessman, Amin Tavakoli, 67, is a refugee success story. After his 1984 arrest and imprisonment for being a Baha'i, Mr Tavakoli, his wife Manijeh, and their two children came to Australia. He found work in a factory, then as a taxi driver, later as a sign writer and then opened a successful jewellery business.