Source: www.deseretnews.com
By Katrina Lantos Swett and Robert George
For the Deseret News
May 28 2015
–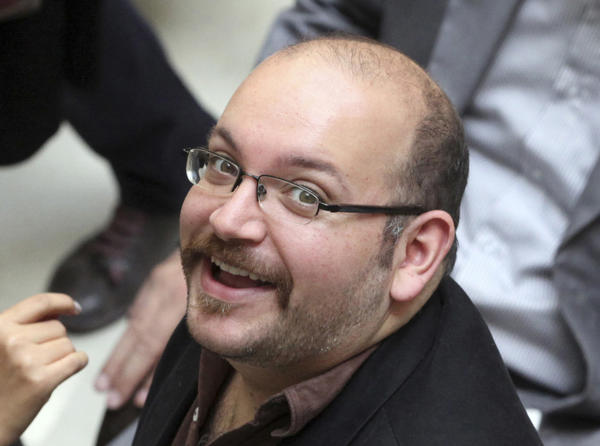 "We do not jail people for their opinions."
So insisted Iranian Foreign Minister Mohammad Javad Zarif in his April 27 interview with American journalist Charlie Rose.
Zarif has since claimed he was speaking about imprisoned journalist Jason Rezaian, an American citizen Iran is about to try on trumped-up charges which include espionage.
Whether Rezaian is being jailed for an opinion is at best unclear. What is clear is that the foreign minister's statement is as believable as the charges against Rezaian, which the Washington Post, his current employer, the U.S. government and human rights groups rightly deem absurd.
Of course Iran jails people for their opinions, especially when they challenge Tehran's religious orthodoxy.
Just ask Pastor Saeed Abedini, another American citizen serving an eight-year prison term since January 2013 for "threatening national security" by facilitating religious gatherings in Christian homes.
And ask the seven Baha'i leaders who as of this month have been imprisoned for seven years: Jamaloddin Khanjani, Afif Naeimi, Saeid Rezaie, Behrouz Tavakkoli, Vahid Tizfahm, Fariba Kamalabadi and Mahvash Sabet.
As Iran's largest non-Muslim minority, now numbering more than 300,000, Baha'is believe their founder received a divine revelation more than a millennium after the Quran. No religious group in Iran suffers more. They are anathema to a government that has been imposing its own interpretation of Shiite Islam on Iran since the 1978 Islamic Revolution brought it to power.
Authorities have since killed more than 200 Baha'i leaders, and more than 10,000 have been dismissed from government and university jobs. Baha'is are effectively barred from attending university, starting their own schools or houses of worship, serving in the military and obtaining various forms of employment. Even their marriages are unrecognized.
Since 2005, more than 750 Baha'is have been arrested, including dozens over the past year, and as of February 2015, more than 100 remain imprisoned. In April 2014, authorities began destroying a historic Baha'i cemetery in Shiraz. In October, nearly 80 Baha'i-owned shops in Kerman Province forcibly were closed.
Last year alone, pro-government print and media outlets published nearly 4,000 anti-Baha'i articles. An October 2011 report by the Baha'i International Community summarized the government's relentless propaganda and negative portrayal of Baha'is as follows:
"They are accused of being agents for … imperialist … factions; they face … utterly unfounded allegations of immorality; they are branded as social pariahs. … The propaganda is shocking in its volume and vehemence, its scope and sophistication, cynically calculated to stir up antagonism against a peaceful religious community whose members are striving to contribute to the well-being of their society."
Acts of anti-Baha'i violence are not uncommon and often go unprosecuted. For example, no one has been charged for the stabbing of three Baha'is in February 2014.
As Pastor Abedini's case illustrates, members of religious minorities other than the Baha'is also face imprisonment and other forms of persecution. Since 2010, authorities arbitrarily have arrested and detained more than 500 Christians. As of February of this year, about 90 Christians either were jailed, detained or awaiting trial due to their religious beliefs and activities, with assaults and beatings common.
Muslims face jail time as well. According to an October 2014 U.N. report on human rights in Iran, 150 Sunni Muslims are incarcerated based on charges related to religious beliefs, with more than 30 on death row. Over the past year, authorities also have detained hundreds of Sufi Muslims, sentencing many to imprisonment, fines and floggings. Not even majority Shiite Muslims are exempt. Dissident Shiite cleric Ayatollah Mohammed Kazemeni Boroujerdi continues to serve an 11-year prison sentence and has suffered physical and mental abuse while jailed.
President Obama has rightly called for releasing Jason Rezaian, as well as Pastor Abedini. Washington should renew that call now. Iran's foreign minister has now unwittingly spotlighted others unjustly jailed, including the Baha'i Seven. We hope the president and the world community will call for their freedom as well.
–
Katrina Lantos Swett is chairwoman of the U.S. Commission on International Religious Freedom (USCIRF). Robert P. George is a USCIRF vice chairman.