Source: en.iranwire.com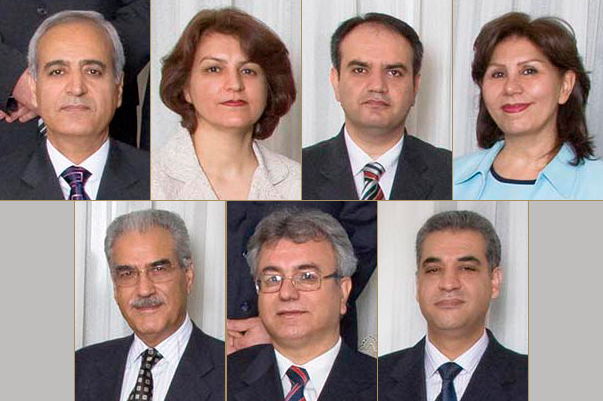 In Iran, Bahai's face persecution, arrest, torture, and exile — simply for practicing their faith. 
In May, the Baha'i International Community (BIC) launched a global campaign to raise awareness about the situation of Baha'is living in Iran, and to commemorate the seventh anniversary of the unlawful arrest and imprisonment of seven prominent Baha'i leaders.
The campaign, which lasted seven days and ends on May 21, calls for the immediate release of Mahvash Sabet, Fariba Kamalabadi, Jamaloddin Khanjani, Afif Naeimi, Saeid Rezaie, Behrouz Tavakkoli and Vahid Tizfahm, who were all arrested in early 2008 for being leading members of an Iranian Baha'i community group.
Each day of the campaign focused on one of the seven detainees, highlighting the details of their cases and calling for international support via social media, and in particular through BIC's Facebook Event page.
The campaign encourages people to send in video messages of support and solidarity, and several celebrities, including British comedian Omid Djalili, have added their voices.
In support of this, IranWire spoke with some of the family members of the seven prisoners about the arrests, the difficulties of being a Baha'i in Iran, some of their personal stories and how the Baha'i community has adapted to the government's discriminatory policies.
"The persecution of my family began about 20 years ago when my aunt went to prison for three years for attending a youth meeting for Baha'is," says Pooneh Heidarieh, Saeid Rezaie's niece. "After that, my dad was fired because he refused to deny his faith and then, seven years ago, my uncle Saeid was arrested — their only crimes were being Baha'is."
Prior to his arrest, Mr. Rezaie, 57, had been an agricultural engineer who ran a successful farming equipment business in Fars Province for over 20 years. He also wrote extensively on Baha'i issues, taught Baha'i children's classes, and served the Baha'i Education and Baha'i Life Institutes.
Like six of his colleagues, he was arrested at home in Tehran on the morning of May 14, 2008. He was first sent to Evin Prison, where he was held for some four months in solitary confinement, until being sent to Gohardasht Prison where he has remained ever since.
Mr. Rezaie's two daughters, Martha and Maaman, were also arrested in May 2006 along with 52 other Baha'is for running a literacy program in Shiraz to help under privileged children.
"They spent six days in prison, nine years ago, and all they'd done was help under-privileged children to do their school work," says Pooneh. "These unjust restrictions on Baha'is have caused most of my extended family to leave Iran, like I did. My parents wanted my brother and me to be safe."
Ferida Khanjani, the daughter of imprisoned Baha'i leader Jamaloddin Khanjani, explains that as a Baha'i, it is too dangerous for her to go back to Iran.
"If your name is Khanjani, the authorities automatically want to persecute you," says Ferida. "Not that my father would let me anyway. He's too worried about my safety. It does mean though that I haven't seen him for years, which is very hard."
Before the Islamic government's systematic targeting of Mr. Khanjani, 81, in the 1980s, he owned and ran a successful brick factory that employed several hundred people. But the regime closed it down because he was a Baha'i.
"People know my father Jamaloddin has been in prison for the past seven years but his victimization goes back much further than that. Between 2005 and 2008, he was in prison at least five or six times, it's just nobody knew about it," says Ferida. "And, for most of the 1980s, he was on the run. Officials would send him messages via other Baha'is saying that if he came forward, they'd kill him but that if they had to find him, they'd slowly bleed him to death."
In the early 1980s, Jamaloddin became a member of the National Spiritual Assembly, which was the body responsible for governing the Baha'is of Iran. But taking on the position carried huge risks.
During a meeting on August 1980, Revolutionary Guards abducted all nine members of the original Baha'i National Spiritual Assembly. Despite their families searching for months, they found nothing – today, they are presumed dead. Following this, the Baha'is elected a new assembly but when the group met in late 1981, they too – except one member who was in hospital at the time — were executed.
Mr. Khanjani was a member of the so-called third National Spiritual Assembly, which was banned in 1983 and also saw four of its nine members executed by the government in 1984. He later formed the "Yaran" or "Friends," which tended to the spiritual and social needs of the Baha'i community in the absence of a formally elected Baha'i leadership.
"When they found him in 1987, everyone thought he was dead because so many of his colleagues at the assembly were killed, but they released him," says Ferida. "After that it became slightly better for our family and Baha'is generally."
The situation improved slightly when President Khatami came to power in the late 1990s, but only in relative terms: Baha'is were allowed to sit and pass university entrance exams only if the information about the student's religion was omitted from the form. But if a student's religion was discovered, registration would be withdrawn, and the student faced immediate expulsion. Since then, Iranian governments have found new ways to block Baha'is from higher education, usually through forcing them to deny their religion, which goes against the Baha'i faith. Under ultra-conservative President Mahmoud Ahmadinejad, who came to power in 2005, life for Baha'is once again deteriorated, and the patterns that started then are still in place today.
"The law changed and Baha'is were no longer allowed to go to university," says Pooneh. "All of a sudden, my uncle Saeed had a month to finish his studies, which would normally take two years, otherwise he wouldn't qualify."
Today, Baha'i students and teachers are forbidden from attending or teaching at regular universities in Iran. Again, they face immediate expulsion if their religion is identified either during the entrance process, or while they are enroled at a college or university. They are banned from holding religious ceremonies or gatherings, as well as being denied basic rights, including the right to a proper burial and access to higher education. The authorities routinely block Baha'is from advancing in their careers and from certain types of employment, including government jobs.
Nika Khanjani, the niece of Jamaloddin Khanjani, explains how many Baha'is have moved their families abroad to ensure their children have every possible opportunity in life, including access to higher education, even if they would prefer to remain in their homeland of Iran.
"Just two years ago, my cousins went to Colorado because they have twin boys and they knew they'd be sent to do military service for two years if they stayed," says Nika. "So, the combination of wanting to send their boys to university and that being a Baha'i in the military is extremely dangerous meant they felt they had no other choice."
For most Iranian families, over the last 20 years, military conscription has become a synonym for coercion and the severity of this depends on a range of factors including ethnicity, beliefs, religion, marital status, education and the social and financial situation of the conscripted soldier. However military conscription for Baha'is is particularly difficult, as they are frequently discriminated in the army.
Anti-Baha'i propaganda on Iran's state television depicts them as a cult and a threat to Islamic society, adding to a hate-culture directed at Baha'is living in the country. Between the late 1990s-early 2000s alone, hundreds of Baha'is were imprisoned, tortured and executed. In recent years, and particularly since the Green Movement in 2009, Baha'i teachers and followers have continued to be arrested.
"This governmental propaganda is obviously false, which is one of the reasons media campaigns, like the one for the seven Baha'i leaders, are so crucial," says Nika. "I remember in the 1980s when Baha'is were being killed, the government thought it could just get away with it but they were forced to stop because of the international outcry. Although it changed to softer types of persecution, the killing did stop."
"The campaign may not get them released but it is still very important that officials in Iran know they're being watched and for the Baha'is to know they're not being forgotten and that their lives matter," adds Nika.
Pooneh agrees and says that the more people that join the campaign, the bigger the effect it will have, and that only that way can they hope to get all seven Baha'i leaders released.
"My uncle is very dear to me, so it would be a tragedy to not being able to see or speak to him for another 13 years," says Pooneh. " So, I pray that my uncle and the other six former leaders of the Baha'is in Iran remain strong until the day comes that they are set free. "
The seven Baha'i leaders were sentenced seven years ago to 20 years behind bars. If the verdict is not reversed, the five men and two women will not be freed until 2028.
"I can't predict the future but things do change. It's a matter of when and whether they get worse for the Baha'is before they get better," says Nika. "Right now though, jeez, it's really bad. My family is disappearing, one by one. Let's hope that change comes sooner rather later."