Source: hra-news.org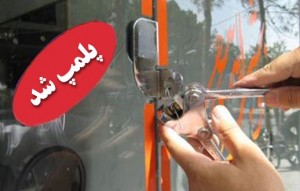 HRANA News – The number of businesses belonging to Baha'i residents of Sari that have been shut down are now as many as eleven.
According to HRANA, the news organization of Human Rights Activists in Iran, the commercial businesses that were shut down by the Office of Properties of the Law Enforcement Forces of the City of Sari, on Sunday 24 May 2015 because they were closed on a date that was not an official government holiday, are as follows:
Vahab Darai, Clothing Store
Taraneh Zahedi, Clothing Store
Saeed Goli, Clothing Store
Aramesh Zohuri, Clothing Store
Farshad Kamali, Wiring Store
Mehran Kamali, Wiring Store
Ziaollah Khoshbin, Paint Store
Ehsanollah Sanai, Medical and Health Accessories Distribution
Ehsan Izadi, Medical and Health Accessories Distribution
Kamal Akbari, Carpentry
Pedram Ghanbari, Paper plates and products
Explaining the reasons for these events, one of the Baha'i's residents said: "In the Baha'i Faith there are nine holy days which are considered religious holidays; some of these do not coincide with the official holidays of the official Iranian calendar, but according to the Baha'i Faith, on these days work is not permissible, and Baha'is take these days off. However, the Office of Properties says that we don't have the right to close our place of work on these days, and Baha'is will not accept this."
In accordance with paragraph (b) of the Executive Regulations of article twenty-eight of the Trade Law, a business owner who has a critical job such as bakery, pharmacy, etc, should be prosecuted if he closes his commercial unit for more than 15 days without prior notice.  In an amendment to the same article, it is stated that dealing with this issue is left to the discretion of the Trade Office.  Instead, the closure of these businesses has been undertaken by the Office of Properties.
According to local sources, the businesses of up to fifteen Baha'i residents of the city of Sari have been shuttered over the past two months, although the actual issues mentioned above do not qualify under the Law of Office Closures; items that qualify under this law would be such matters as not having an business operation card, or a business permit still being in process, etc.
As reported by HRANA, according to the Executive Regulations of article twenty-eight of the Trade Law, this law applies when commercial units have kept their businesses closed for more than 15 days without providing prior notice to officials, while in fact the total number of Baha'i holy days are fewer than fifteen days out of the year ‒ also, these Baha'i businesses have repeatedly informed the proper authorities in advance about their official religious holidays.