Source: www.facebook.com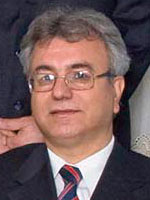 Dear Ms. Oprah Winfrey-
I am writing this letter to you at the beginning of the eighth year of my 20-year imprisonment. I saw your extraordinary performance in the movie "Selma", and it moved me to send you this letter from far away, because of its humanist themes when dealing with unjust discrimination. I saw that in your country also, people have experienced discrimination, and that, along with great men like Martin Luther King who have fought against it, many artists have attempted to put this oppression and injustice into words and images. The story of the Baha'i community in Iran is also a bold story of unjust oppression. Even hearing small parts of this story will stir the hearts of open-minded human beings.
For more than 170 years, this community has been struggling with the oppression and cruelty that result from religious prejudice. The Baha'i Faith's Herald was executed, and its Messenger of peace and love was exiled after being chained and imprisoned. Its followers have experienced execution, burning, terrorism, imprisonment, abuse, deprivation of their rights to education and employment, confiscation of their belongings and homes, displacement and homelessness because they believed in a Faith whose goal is the unity of humankind, universal peace, the equality of men and women, and the elimination of gender, religious and racial prejudices.
Ms. Winfrey, I have tried to write this short and earnest letter and  send it to you because your work has a huge impact on public opinion, and because you are an encouragement to activists and artists who are working to eliminate discrimination against this oppressed community. I believe that writers and artists, especially those involved with the media and filmmaking, can play a vital and worthwhile role in the elimination of this situation. Will they see this oppression and work to publicize it? Sparks of hope can be seen in the heart of darkness. I hope you and other artists with awakened consciences will bolster this hope even more.
I'm hoping for a day when no human being is discriminated against due to the color of their skin, their race, gender, religion, ideas and opinions; when everyone can exercise their rights despite their differences, enabling them to be colorful flowers in one garden.
Saeid Rezaie, Former member of the management committee of the national Baha'i community of Iran