Source: hra-news.org
Translation by Sen's daily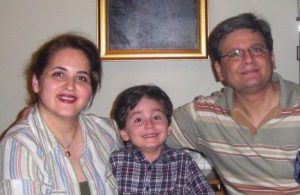 Despite the orders of the prosecutor, authorities at Evin prison, in Tehran, have refused to allow Shahriar Cyrus, a Bahai painter and a respected art critic, to receive family visits. Mr. Cyrus was arrested on June 30th *. On July 23, his wife Afsaneh Ighanian and their 7-year-old son went to block 209 at Evin prison, where prisoners of conscience are held. They had a visiting permit from the Tehran prosecutor's office. However the interrogator for bench 3 of Evin court, a Mr. Hosseini refused to allow a visit. Mr. Cyrus has now been held in solitary confinement for a month, yet his family have not been told why he was arrested.
Shahriar Cyrus started working as a professional painter in 1991. He studied with master artists such as Aidin Aghdashloo, Ruyin Pakbaz and Ahmad Vakili. He has also done research on the philosophy and history of art while becoming an expert in painting techniques. The outcome of his research has been several articles: "Acquired art and global culture" and "Art at the threshold of the third millennium" which were published in the magazine "Art of Iran", as well as numerous online articles.
In addition to several individual and group shows and participation in the third biennial of Iranian painters, for more than 10 years he has been teaching in the fields of design, painting, art history, composition, foundations of visual arts and foundations of art philosophy.
---