Source: www.radiozamaneh.com
Translation by Iran Press Watch
July 27, 2015
Kian Sabeti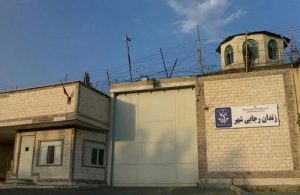 Tens of unknown prisoners of conscience are serving time in different cities of Iran, but only the names of a few of them are mentioned in international human rights courts or the media.
This report will introduce one of these unknown prisoners of conscience, named Farhad Fahandej.
For more than thirty months, every Tuesday six Baha'i families have been traveling to Tehran on a bus or in their personal cars to visit their spouse, father, son or brother at Rajai Shahr prison on Wednesday morning, only to then return to their own cities afterwards.
Farhad Fahandej, Siamak Sadri, Payam Markazi, Foad Fahandej, Kamal Kashani and Farahmand Sanai are six Baha'i prisoners from Gorgan who have been exiled to Rajai Shahr prison in Karaj to serve their sentences.
Together with two other Baha'i citizens from Tehran and Gonbad Kavoos, these six Baha'i citizens were tried at branch twenty-eight of Tehran's Revolutionary Court, presided over by Judge Moghiseh, faced with different charges such as "propaganda against the regime", "forming and managing the illegal Baha'i organization" and "membership in the illegal Baha'i organization". The court issued ten-year and five-year sentences against them and all their sentences were confirmed at the appeals court.
Farhad Fahandej, however, has been serving his ten-year sentence at Rajai Shahr Prison – far from his family and his city of residence – while denied the right to any furlough. He was also imprisoned in Golestan Province for five years in the 1980s during the time when many Baha'is were arrested and executed.

Farhad Fahandej, an individual with a small and weak body, is 56 years old. His family members (including his wife, a 23-year-old daughter and a 14-year-old son) live in Gorgan, and every Wednesday they travel to Karaj to visit their prisoner.
To learn more about this prisoner of conscience, we had a conversation with one of his close friends.
In response to Radio Zamaneh's question regarding Farhad Fahandej's arrest, this informed individual said: "In an extensive and simultaneous operation on October 17, 2012, seventeen Baha'i citizens and a few Muslim citizens were arrested in the cities of Gorgan and Gonbad by agents of the Ministry of Information of Golestan Province.  Farhad was one of those arrested. The initial charge against him was teaching the Baha'i Faith. However, the charge of managing the Baha'i organization was added later. All detainees were released after a while, but Farhad, Kamal Kashani and Farahmand Sanai were kept in detention, until after approximately one month these three individuals together with four other Baha'is arrested in Gorgan and Gonbad Kavoos were transferred to ward 209 of Evin Prison in Tehran."
Continuing his account, this individual said that Farhad was studying computer engineering but was expelled from university after the Cultural Revolution. "He continued his education and studied psychology and education at the Baha'i online university."
Fahandej was a watchmaker: "Even though he earned a living through watchmaking, many Baha'is and Muslims in Gorgan who knew about his training consulted with him on educational matters, and he provided free services to all of them without any mention of the Baha'i Faith or of religious teachings. These same consultation sessions were an excuse for his arrest on October 17th, but since the charge was not proven, they charged him with administering Baha'i affairs in Gorgan. This was at a time when the Baha'i administration had stopped functioning several years previously, and had no administrators."
After thirty-five days of temporary detention, twenty of which were spent in solitary confinement and continuous interrogation, he and six other Baha'i citizens were transferred from Gorgan prison to ward 209 of Evin Prison. After he was arrested he realized that another warrant had been issued for his arrest in connection with the case of another Baha'i prisoner, named Adel Naimi. In ward 209, he was subjected to a series of very severe interrogations over fifteen days, then transferred to Evin's ward 350 afterwards, and transferred to Rajai Shahr Prison a few days later.
The court session for Farhad Fahandej, Adel Naimi, Payam Markazi, Farahmand Sanai, Siamak Sadri, Kamal Kashani, Kourosh Ziari, Farhad Eghbali* and Foad Fahandej was held in May 2013 at branch twenty-eight of Tehran's Revolutionary Court presided over by Judge Moghiseh. As reported by this informed individual, the judge did not consider a reduction in these defendants' sentences and issued the most severe sentences for them: "Based on the court's decision, Farhad Fahandej and Adel Naimi were each sentenced to ten years imprisonment for administering and forming the Baha'i organization. The other defendants were each sentenced to five years imprisonment for membership in the Baha'i administration."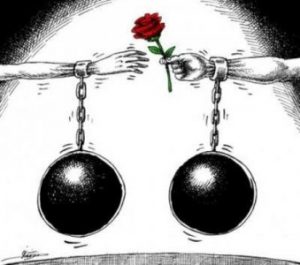 Regarding Farhad Fahandej's physical and emotional conditions, this individual, who is close to the Fahandej family, said: "Farhad is in high spirit and is content with God's will. He has adapted to the difficult conditions of prison, and spends most of his time reading. His main concern, like many other prisoners in his ward, is probably the overnight trips his family takes from Gorgan to Karaj every week."
On another note, Farhad's wife Mojdeh Zohoori was also tried in Gorgan in March of this year, charged with propaganda against the regime; she is awaiting sentencing. Also, Farhad's brother Foad is serving a five-year sentence in the same prison ward.
This close friend says these issues may cause more concern for Farhad, "although he is a quiet person and does not reveal his worries often."
---
* Farhad Eghbali is another Baha'i prisoner from Gorgan at Rajai Shahr, who has been sentenced to five years imprisonment. He began serving his sentence in September 2014.