Source: bahaicamp.com
Translation by Iran Press Watch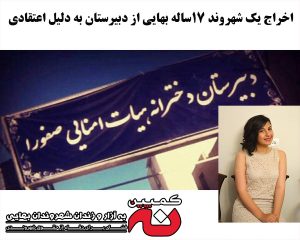 Based on reports received by the "NO to the Harassment and Imprisonment of Baha'is" campaign, on July 1st 2015 Kamand Agahi, a 17 year old Baha'i resident of Isfahan, was denied permission to sign up by the principal upon her arrival at Safoora High School.
After returning to high school with her parents, Kamand Agahi was mistreated by the principal, Mr. Ghari. They were given the excuse of a "decision made by the high school council" as the reason for expulsion of this Baha'i student.
When Kamand and her family took this matter legally to officials at District 3 of the Ministry of Education of the Province of Isfahan, they were told that the reason for the expulsion of this 17 year old student from Safoora High was that she was teaching the Baha'i Faith in school.
Expelling and denying education to Baha'i students gained momentum after the Islamic revolution in Iran. A while ago, in an interview with the "Taghaato" website in answer to a question regarding the denial of education to Baha'is, Diane Ala'i, the Baha'i International Community spokesperson, indicated that "the number of expelled Baha'i students is so high that unfortunately we don't have an exact count of them." "Many Baha'i students, despite passing the entrance exam, are denied admission to universities. It could be said that every year hundreds of them are denied higher education", she continued.
The spokesperson for the Human Rights division of the Judiciary Branch of the Islamic Republic of Iran, Mohammad Javad Larijani, categorically denies any discrimination against Baha'i citizens.