Source: www.bic.org
Last updated: 24 September 2015
This report is provided as a service to the news media. All details have been verified by the Baha'i International Community. Statistics are current as of the above date.

Summary
Since the 1979 Islamic Revolution in Iran, Baha'is have been systematically persecuted as a matter of government policy. During the first decade of this persecution, more than 200 Baha'is were killed or executed, hundreds more were tortured or imprisoned, and tens of thousands lost jobs, access to education, and other rights – all solely because of their religious belief.
Government-led attacks on the country's largest non-Muslim religious minority have re-intensified in the last decade. Since 2005, more than 800 Baha'is have been arrested, and the number of Baha'is in prison has risen from fewer than five to more than 70. The list of prisoners includes all seven members of a former leadership group serving the Baha'i community of Iran. In 2010, the seven were wrongly sentenced to 20 years in prison, which is the longest term currently facing any prisoner of conscience in Iran. The constant threat of raids, arrests, and detention or imprisonment is among the main features of Iran's persecution of Baha'is today.
Other types of persecution include economic and educational discrimination, strict limits on the right to assemble and worship, and the dissemination of anti-Baha'i propaganda in the government-led news media. Attacks on Baha'is or Baha'i-owned properties go unprosecuted and unpunished, creating a sense of impunity for attackers. Since 2005, for example, there have been at least 52 incidents of arson against Baha'i properties, crimes for which no one has been arrested. During the same period, 42 incidents of vandalism at Baha'i cemeteries have been recorded. As noted by a top UN human rights official, the government-led persecution spans "all areas of state activity, from family law provisions to schooling, education, and security." Put another way: the oppression of Iranian Baha'is extends from cradle to grave.
The situation facing Baha'is has not changed since the coming to power of President Hassan Rouhani in August 2013, despite his promises to end religious discrimination. Since his inauguration, at least 108 Baha'is have been arrested, 22 Baha'is have been expelled from university, and at least 180 Baha'i-owned businesses have been shut down or been threatened. More than 6,300 pieces of anti-Baha'i propaganda have been disseminated in the Iranian media during his administration. Read more…
Imprisonments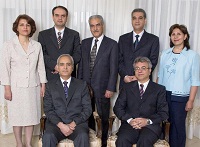 There are currently 74 Baha'is in prison, all on false charges related solely to their religious belief. The list includes all seven Baha'i leaders, who currently remain in prison, serving wrongful 20-year sentences for allegedly "disturbing national security," "spreading propaganda against the regime," and "engaging in espionage."
Their arrests in 2008 and sentencing in 2010 provoked an international outcry and are the longest sentences of any current prisoners of conscience in Iran. In December 2013, 
the seven wrote to Iranian President Hassan Rouhani 
to express their views on his proposed "Iranian Charter of Citizen's Rights."
Economic Pressure
Economic pressure on Iran's Baha'i community is acute, with both jobs and business licenses being denied to Baha'is. Government jobs, including not only in the civil service but also in such fields as education and law, have been denied to Baha'is since the years immediately following the Revolution and Muslims often are pressured to fire Baha'is in their employment in the private sector.
Since 2007, the Baha'i International Community has documented more than 650 incidents of economic persecution against Iranian Baha'is. These include shop closings, dismissals, the revocation of business licenses and other efforts to block Baha'is from earning a livelihood. Recent examples include the following:
In April and May 2015, authorities closed more than 35 shops in the cities of Rafsanjan, Kerman, Sari, and Hamadan, in an effort to pressure Baha'is not to observe their religious holy days. This followed an earlier episode, in October 2014, when 79 Bahá'í-owned shops in Kerman, Rafsanjan, and Jiroft, were sealed by the authorities. They owners had all closed their businesses to observe a Baha'i Holy Day, which apparently triggered the action. The authorities placed banners at the shops asserting that the owners had violated the rules governing business and trade practices. The fact that so many banners were ready for use points clearly to the fact that the attacks on Bahá'í-owned businesses were systematic and planned ahead of time. In January 2015, most of those shops were allowed to re-open, only to have many closed again in April and May 2015.
In April 2013, the BIC received reports that some four Baha'i-owned shops in Birjand were closed and sealed by authorities. Business permits for other Baha'is there were denied or denied renewal. In January 2013, the BIC received reports that the manager at a Baha'i-owned elevator company in Isfahan was summoned by the office of Public Places Supervision Office and threatened to provide a list of all of his employees and their religions as well as a list of all similar Baha'i-owned companies. The office of Public Places Supervision Office in Isfahan has collected the names and addresses of all the Baha'i-owned optometry shops, including a list of their employees and their religions. And a large, Baha'i-owned distributor of hygiene products in Tehran was closed down resulting in 70 employees losing their jobs. The Baha'i owner was threatened against filing complaints.
Attacks and assaults
On 3 February 2014, three Baha'is were stabbed in their home in the city of Birjand by an unidentified intruder. The attacker, who was wearing a mask, entered the home of Ghodratollah Moodi and his wife, Touba Sabzehjou, at about 8 pm, attacking them with a knife or sharp instrument. He also assaulted their daughter, Azam Moodi, before fleeing. All three were seriously injured; Ms. Moodi managed to summon help and all three were taken to a local hospital in serious condition.
On 7 November 2014, unidentified individuals broke into a Baha'i home in the village of Amzajerd in the province of Hamadan and set a fire. Furniture, papers and some money were destroyed in the blaze, which was labeled arson by the fire department.
On 3 November 2014, unidentified individuals broke into a Baha'i home in a village of Owj Pelleh in the province of Hamadan. They broke windows, wrote graffiti, and attempted to set fire to the house, which was unoccupied at the time.
On 2 October 2014, unknown individuals threw a firebomb at the home of a Baha'i in Yazd. Fortunately, the bomb did not ignite. A second firebomb attack on the home of another Baha'i in Yazd occured three nights later, on 5 October, starting a fire that was quickly extinguished. The police were informed of both attacks but did not investigate.
Murder of a Baha'i in Bandar Abbas
On 24 August 2013, a well-known member of the Baha'i community of the city of Bandar Abbas in southern Iran was murdered. The body of Mr. Ataollah Rezvani was found, shot in the back of the head, in his car in an isolated location near the railway station on the outskirts of Bandar Abbas. Every indication is that Mr. Rezvani's murder was religiously motivated. His killing came after a series of incidents that were apparently designed to force him and his family to leave the city. He had been under pressure from agents of the Ministry of Intelligence, who instigated his dismissal from a job in water purification. Recently, he had begun to receive menacing telephone calls from unknown persons. This came against a backdrop of attacks on Baha'is from the pulpit by local clerics in the past several years. The Baha'i International Community has said the murder should be treated as a hate crime, and it has called for an investigation. Since 2005 in Iran, at least nine Baha'is have been murdered or died under suspicious circumstances.
Raids and arrests
Since 2005, more than 800 Iranian Baha'is have been arrested. Most of the arrests and detentions follow a similar pattern: Agents of the Ministry of Intelligence arrive at the homes of Baha'is, search the premises, confiscate items such as computers and books, and then make arrests.
In April 2015, for example,13 Baha'is were arrested in Hamadan. The arrests came over a period of two weeks, as intelligence agents raided and searched a number of Baha'i homes there. Owners/occupants were arrested on charges such as "engaging in propaganda against the regime." Most were released within a day or so after posting large sums for bail, ranging from US$8,000 to US$20,000. One woman, however, was detained for nine days in solitary confinement.
On 11 August 2014, five Baha'is were arrested in Tehran during a raid on an optical shop. Arrested were shop owners Aladdin (Niki) Khanjani and Babak Mobasher, along with three employees, Naser Arshi-Moghaddam, Ataollah Ashrafi and Rouhollah Monzavi. Mr. Khanjani is the son of Jamaloddin Khanjani, one of the seven Baha'i leaders who are currently serving 20 year prison sentences on false charges including espionage. Agents also confiscated their computers and other electronic devices and took a large amount of goods and products from their shop.
Other incidents involving the arrest and detention of Baha'is in recent months include:
• On 5 August 2014, government agents in Shiraz arrested four Baha'is. Vahid Dana, Saeid Abedi, and Bahiyyeh Moeinipour were arrested at their homes, while Adib Haqpazhuh was arrested at his workplace. To date, no information has been received about their whereabouts or status.
• On 27 July 2014, a Baha'i in Vilashahr was arrested and beaten after refusing to work on a secret computer program for the Revolutionary Guards.
• On 8 July 2014, Saghi Fadaie was summoned to the Ministry of Intelligence office in Mashhad. After a few hours she was taken to her home, where agents searched her belongings and took her into detention.
• On 2 June 2014, three Baha'is were arrested in Mashhad. Their names are May Kholousi, Dori Amri, and Shayan Tafazoli.
Following raids on 14 Baha'i homes in the Iranian city of Abadeh on 13 October 2013, government agents summoned the occupants for questioning and urged them to leave town or face possible deadly attacks from city residents. Agents from the Shiraz office of the Ministry of Intelligence, with agents from Abadeh, launched the raids at about 8 am on 13 October 2013. The homes were searched, and Baha'i books, CDs, computers, and other items, including photographs, were confiscated. During questioning, several Baha'is were told that local residents "don't like you" and that "when you are on the street, they might attack you and your children with knives." But all evidence says the hate is instigated by the Government; Abadeh residents have good relations with Baha'is.
Destruction of historic Baha'i cemetery in Shiraz
In April 2014, it was learned that elements of Iran's Revolutionary Guards had begun destruction of a historic Baha'i cemetery in Shiraz, apparently to make way for a new sports and cultural center. After the excavation of a large but shallow hole, demolition was halted for several months in the face of international pressure and the expression of outrage on the part of Iranians from all walks of life.
But in August 2014, reports emerged from Iran saying that the Revolutionary Guards had resumed construction on the site, removing human remains from some 30 to 50 graves and pouring a concrete foundation for the complex, which will reportedly include a library, mosque, restaurant, theatre, child care facility, and sports hall. The cemetery is the resting place of some 950 Baha'is, many of whom were historic or prominent figures in the Baha'i community of Iran. Interred at the site, for example, are ten Baha'i women whose cruel hanging in 1983 came to symbolize the government's deadly persecution of Baha'is.
In September 2014, three high level UN human rights experts called for a halt to the cemetery's destruction, a plea that has so far gone unheeded.
In addition to the demolition of the Baha'i cemetery in Shiraz, there have been in recent months other attacks. On 12 December 2013, the Baha'i cemetery in Sanandaj was partly destroyed. Reports from Iran say the morgue, where bodies are washed, along with the prayer room, a water tank, and the walls of the cemetery were destroyed, apparently as the result of a long-running government effort to confiscate the cemetery land and razed is buildings. In Semnan recently, attackers destroyed the Baha'i cemetery there in two stages. In October/November 2012, intruders demolished the morgue and in December 2012/January 2013, they covered all the graves 40 centimeters deep in dirt using bulldozers. The municipality whose bulldozers were used for this purpose denied knowledge of the incident and promised to repair the damage. In December 2012, the Baha'i cemetery in Yazd was vandalized.
Perscution in education
Baha'i school children at all levels continue to be monitored and slandered by administrators and teachers in schools. Secondary school students often face pressure and harassment, and some have been threatened with expulsion. Religious studies teachers are known to insult and ridicule Baha'i beliefs. In a few reported cases, when Baha'i students attempt to clarify matters at the request of their peers, they are summoned to the school authorities and threatened with expulsion if they continue to "teach" their Faith. Young Baha'is continue to be denied access to public and private colleges and universities in Iran as a matter of official policy, which requires that they be expelled if they manage to enroll and school authorities learn that they are Baha'is. Those working in support of the Baha'i Institute for Higher Education (BIHE), an ad hoc, volunteer effort of the Iranian Baha'i community to provide education for its young people, have been at various times arrested, harassed and imprisoned.
In September 2014, for example, Ms. Shadan Shirazi was blocked from entering university despite the fact that she placed 113th on national college entrance examinations. The story was widely reported and reveals a new tactic undertaken by the government, which is to deprive Baha'is of any document or paper that they can use to prove they were discriminated against because of their religion.
Other recent incidents of discrimination in education include the September 2014 expulsion of a Baha'i from Baharestan University in Esfahan and an August 2014 expulsion from Payame-Noor University.
Incitement to hatred
Over the years, thousands of pieces of anti-Baha'i propaganda have been disseminated in official or semi-official Iranian media. These include anti-Baha'i articles, videos, and webpages. A report, Inciting Hatred, covering a period from December 2009 through May 2011, documents the nature of these attacks. These attacks have not slowed or abated. From January 2014 through May 2015, the BIC documented more than 6,300 items of anti-Baha'i propaganda in Iran's official or semi-official media.
Other forms of Persecution
Other forms of persecution faced by Iranian Baha'is include the monitoring of their bank accounts, movements, and activities; the denial of pensions or rightful inheritances; the intimidation of Muslims who associate with Baha'is; the denial of access to publishing or copying facilities for Baha'i literature; and the unlawful confiscation or destruction of Baha'i properties, including Baha'i holy places.
International reaction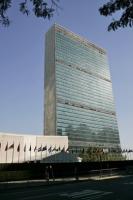 Governments, organizations and individual supporters around the world are calling for the release of jailed Baha'i leaders and Baha'i educators, and an end to the persecution of the Baha'is in Iran.
In March 2015, UN Secretary General Ban Ki-Moon and Ahmed Shaheed, the special rapporteur on human rights in Iran, told the Human Rights Council that discrimination against minorities in Iran, including Baha'is, continues unabated.
In December 2014, the UN General Assembly approved a resolution expressing "deep concern" about serious ongoing and recurring human rights violations" in Iran. The six-page resolution listed the high frequency of executions, torture, restrictions on freedom of assembly and expression, the targeting of journalists, pervasive gender inequality, and religious discrimination – including against Iranian Baha'is – as among the Assembly's concerns.
On 31 October 2014, governments repeatedly called attention to Iran's lack of respect for religious freedom at Iran's Universal Periodic Review in the Human Rights Council. Of the 291 recommendations made by 104 governments, 11 specifically mentioned the situation of Iranian Baha'is, calling on Iran to end discrimination against them.
In September 2014, UN Secretary General Ban Ki-moon and human rights expert Ahmed Shaheed, the Special Rapporteur on human rights in Iran, both issued reports on human rights in Iran. Both expressed concern about the lack of progress, and both specifically discussed the ongoing persecution of Iranian Baha'is.
In September 2014, three high-level United Nations human rights experts called on Iran to halt the ongoing destruction of a historic Baha'i cemetery in Shiraz, Iran, saying the action is an "unacceptable" violation of freedom of religion. In a joint news release, Heiner Bielefeldt, the Special Rapporteur on freedom of religion or belief, Ahmed Shaheed, the Special Rapporteur on the situation of human rights in Iran, and Rita Izsak, the UN Independent Expert on minority issues, said they were "dismayed" at reports that demolition work had resumed in August.
In March 2014, UN Secretary General Ban Ki-moon and Ahmed Shaheed issued reports to the UN Human Rights Council stating that discrimination against Iranian Baha'is continues to persist in Iran. They cited continuing imprisonments, arbitrary arrests and detentions, ongoing exclusion from higher education, and hostility in the legal system. Read more…
In June 2013, the International Labor Organization expressed "deep concern" over continuing economic and educational discrimination against Baha'is in Iran. Read more…
In May 2013, four high-level United Nations human rights experts called on Iran to immediately release the seven imprisoned Baha'i leaders. Read more…
Also in May 2013, the UN Committee on Economic, Social and Cultural Rights recommended that Iran ensure that all citizens, regardless of religious belief, enjoy full rights without any discrimination. The Committee specifically referred to the Baha'i community, expressing its concern that Iranian Baha'is face "widespread and entrenched discrimination, including denial of access to employment in the public sector, institutions of higher education, as well as to benefits of the pension system." It recommended that Iran "take steps to ensure that members of the Baha'i community are protected against discrimination and exclusion in every field." Read more…