Source: BahaiNews1
Translation by Iran Press Watch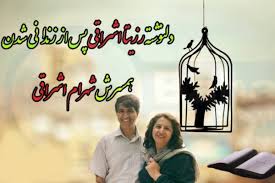 Rosita Eshraghi, whose parents and sister were imprisoned in Shiraz in 1983 and executed within two days by the Islamic Republic, has now seen her husband go to prison for the fourth time. Shahram Eshraghi, who had earlier received a three-year reduced sentence and a one-year suspended sentence, presented himself to the Public Prosecutor's Office in Isfahan recently. Following is an open letter written by Rosita Eshraghi after her husband's imprisonment.
Today, for the fourth time in his life and under the auspices of the righteous Islamic Republic, my husband, Shahram Eshraghi, presented himself to the Isfahan Public Prosecutor's Office to serve a three-year sentence for being a Baha'i.
He submitted to this cruel punishment so that we may not forget that there are still people in this country who are constant in their faith, who cherish love and kindness, and who believe in serving humanity.
Today, for the fourth time, my family and I have stepped into a realm that is not unfamiliar to us; a realm we share with many other families.
A realm of high walls and gloomy corridors, insults and humiliation, long waits for short visits through filthy glass, thick bars and broken earphones. A realm of stamped hands, repulsive and degrading searches, the joy of seeing your loved ones, and the paralyzing weariness after each visit; the terrifying dread at the sound of the telephone, the crippling headaches, and the constant unremitting tension and anxiety; a life of insomnia, tears and midnight prayers; a life devoid of pleasure; a life of bitter laughter and woeful sighs.
And, of course, a life of commiseration and sorrow for my learned and honorable countrymen, and regret for all that this innocent community has endured.
May Divine Providence – witness to every hidden and manifest injustice – exact retribution for the inequities inflicted on my children and me. For Almighty God has pledged Himself not to forgive any man's injustice; this is His Covenant irrevocably decreed in the Preserved Tablet and sealed with His Seal.
_____
1. "BahaiNews" is an independent non-Bahá'í initiative and is not affiliated with any Baha'i institutions.