Source: bahaicamp.com
Translation by Iran Press Watch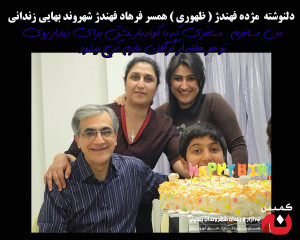 (…. now is the 147th time……)
My dear Farhad,
I am a traveller…., a wayfarer who, with loads of love, is setting forth every week from Gorgan to Karaj; coming to see your face. From early morning on Tuesdays until the moment I take the bus, there is a feeling of excitement and worry, and the emotion of love, in profusion, fills my heart. It is at the instant when the bus begins to move ‒ that is when I start to think calmly about when I will see you. What to say that will make you laugh and informing you of family news. But how can I express myself, or say anything, when I see you with a bottle of water and a plastic bag with a variety of foods in hand, your face brimming with a smile, picking up the phone behind the window, and I hear the echo of your voice, so cheerful, offering love, talking about everything and asking after everyone's health.
Every week this happens and every time has its own indescribable uniqueness and freshness, bringing an enjoyment beyond expression. With all that hardship of traveling, going and coming ‒ just seeing you energises my life. This is the only thing that makes it easier to continue with life. Three years have passed …. but I earnestly wish you to be able to come here to the warm circle of the family as soon as possible.
Love,
Mozhdeh
Note
On 17, October 2012, in a coordinated and widespread operation, 17 Baha'is and a few Moslem citizens were arrested in the cities of Gorgan and Gonbad in the province of Golestan. Farhad was one of them. Teaching the Baha'i Faith was the initial charge, later management and participation in Baha'i administration was added. After some time, all the people arrested were released, except Farhad Fahandezh, Kamal Kashani and Farahmand Sanaie, along with four other Baha'is, who were kept in custody. After a month these seven people were sent to Hall no 209 of Evin Prison in Tehran.
Farhad was sentenced to ten years of imprisonment. It has been nearly 40 months since he was allowed any time outside prison.