Source: BahaiNews1
19 October 2015 
Translation by Iran Press Watch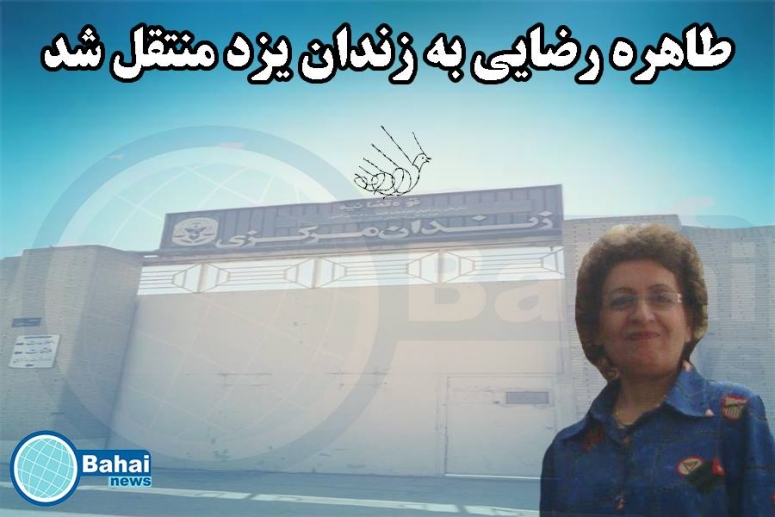 According to "BaháiNews", Tahereh Reza'i, a Baha'i resident of Isfahan, was arrested in front of her home on 19 October and transferred later that day to Yazd prison to serve her sentence.
According to reliable sources, Isfahan provincial authorities arrested Tahereh Reza'i on behalf of Yazd province.
Mrs. Reza'i and 19 other Bahá'i citizens of Isfahan and Yazd had been arrested simultaneously at an earlier date and had received deferred sentences of one to four years each. The sentences were handed down by Section 1 of the Revolutionary Court of Yazd and upheld by the provincial Appeals Court on 16 April 2014.
Their names and sentences are as follows:
Saba Golshan (Isfahan) – four years of prison, one year deferred
Shahram Eshraqi, Khosrow Dehqani (Isfahan), Shahram Fallah (Kerman), Navid Haqiqi (Yasoudj), Iman Rashidi (Yazd) – three years of prison, 1 year deferred
Fariborz Baqi, Nateqeh Naeemi, Shabnam Mottahed, Fariba Ashtari (Yazd), Naqmeh Farabi (Isfahan) – two years of prison, 1 year deferred
Farah Baqi, Mehran Eslami, Aazam Mottahari, Farahnaz Misaqian (Yazd), Sohrab Naqipour, Azar Toloee-Pourkhorsand, Sassan Haqiri, Tahereh Rohani and Vida Haqiqi (Isfahan) – 1 year of prison, 1 year deferred
_____
1. "BahaiNews" is an independent non-Bahá'í initiative and is not affiliated with any Baha'i institutions.