Thursday 10/08/2015
Source: www.roozonline.com
by Fereshteh Ghazi
Translation by Iran Press Watch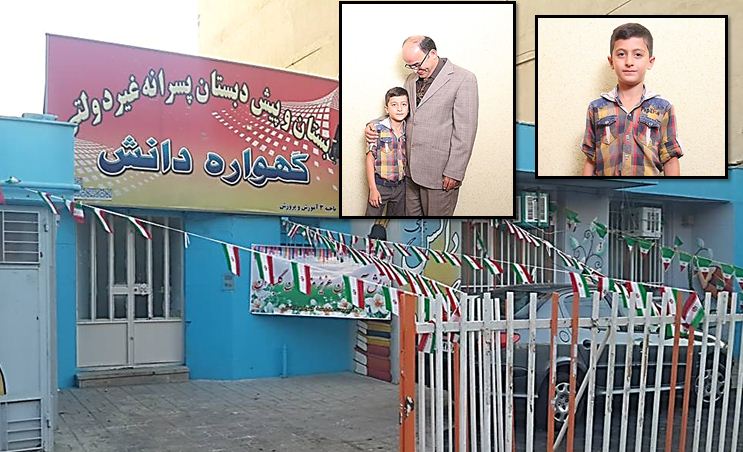 Aref Hekmat-Shoar has been expelled from school because he is a Bahai. He is ten years old.  Gahvareh Danesh School is not the only school in the Mehrvilla region of Karaj that has expelled Aref because of his religion and that of his family.  His father told Rooz-online in an interveiw that Shohadaye Hastei School in the Goldasht region of Karaj, as well as Mahdiyeh Yaran School in Karaj, have also refused to register him because he is  a Baha'i.  Aref Hekmat-Shoar is the same child that Mohammad Nourizad, the political activist and documentary producer, had publicized, saying that he is not allowed to attend school because he is a Baha'i.
Mr. Hekmat-Shoar, Aref's father, says that the Gahvareh Danesh School officials have told them that their money is unclean [1].   He says that this is the third school that
Aref has had issues with registering or attending class because he is a Baha'i.  In his previous school, Shohadaye Hastei, Aref asked questions regarding some of the illogical stories, about the Imam of the end of time waiting in a well since he was 6 or 7 years old until today [2]. Aref asked the teacher questions about this well and the fact that a person might suffocate and die in the well if the well is too deep and if it was not too deep then people could see him, and similar sorts of questions about matters that did not make sense to his young and curious mind, but the teacher would not explain; at the start of the new school year, they refused to register him, using the excuse that the school was full and there was no room left for him.   When they tried to register Aref in a second school by the name of Mahdiyeh Yaran in Karaj, after a brief interaction with Aref the administrators were impressed by Aref's intelligence and were very welcoming, so he was registered and started school there on the first day and Mr. Hekmat-Shoar went to my work; yet half an hour later his wife called and said that the school principal Mrs. Eskandari has called and asked them to take Aref home as they do not accept Baha'is at the school.
Mr. Hekmat-Shoar challenged the school due to the illegal nature of this act according to United Nations law on equal rights regardless of gender, race, and religion which the Islamic Republic of Iran has signed and accepted, but the school principal, Mrs. Eskandari, insisted that she was not willing to accept Baha'is, and that the parents should collect Aref from school and take him home.  Mr. Hekmat-Shoar contacted two key investors in the school: Mr. Mohammadi, who had already met and was impressed by Aref, and Mr. Mohammadi's partner and co-investor Mr. Ghopi, to ask for specific reasons for this illegal action by the school.  The investors said that they had asked a Shi'ite clergyman about the situation, and that the mulla told them that the funds received from a Muslim who earned the money from drug smuggling is not clean, but if a Baha'i has earned his funds from legitimate means, then the money is clean and acceptable.  However, Mrs. Eskandari, the school principal, had asked them to call other clerics and ask the same question. They called two other clerics, and they said that the money from a Baha'i is unclean. They then called the Supreme Leader's office (Office of Ayatollah Ali Khamenei), and asked the same question, and this office said that a Baha'i's money was "the most unclean of all that is unclean."  At this time Mrs. Eskandari insisted that Aref should not be allowed into their school because the money from this family was ritually unclean, and also because she does not want a Baha'i child at her place of work.
Aref Hekmat-Shoar's father told us that the Hojjatieh Society [3] had gotten involved in this matter; when he went back to school with Aref the next day, the principle asked him to wait in her office and left the room. Two seconds after Mrs. Eskandari came back to the room, a large man in a brown suit with an Islamic three button shirt with a very heavy beard by the name of Amiri entered the room and pretended to be in the principal's office with the intention of registering his first grade child at the school.  When Mrs. Eskandari initiated a conversation, all of a sudden this Amiri person told Mr. Hekmat-Shoar that "yes, you are a member of the deviant sect of Baha'i who used to drink the blood of our youth before the revolution, and now you are bothering our Shi'ite children."  He then added: "I'll make a call right now and ask some thugs to come and let you have it."   Mr. Hekmat-Shoar told this guy: "This is none of your business, aren't you here to register your child?!"   Mr. Hekmat-Shoar then told them that he would file a complaint with the Ministry of Education.  Shortly after, there was an incoming call from the Ministry of Education for Mrs. Eskandari; at the same time Mr. Ghopi (one of the school investors) walked into the office.  Mr. Hekmat-Shoar told everyone that all he wanted was for his ten year old child to go to school.  Mr. Amiri continued to insist on talking about the deviant sect of the Baha'is. Mr. Hekmat-Shoar stopped him and told him that he was being rude and insulting; he also told him that: "It has been 170 years during which you have not allowed any unprejudiced means of communication, so that the negative propaganda and misperceptions can be cleared out.  I am not upset at Mrs. Eskandari, because over these many years ideas such as that Baha'is are spies, that Baha'is are ritually unclean, etc. have been injected into her mind, so that she naturally believes that this is the case when she sees me."  Mr. Hekmat-Shoar further told Mr. Amiri that "you and your methods match those of the Hojjatieh Society ‒ this is not the place to talk about such matters ‒ you are welcome to invite anyone from the Seminary in Qom [4] and I will be happy to discuss with them about this."
Mr. Hekmat-Shoar said that Mr. Amiri volunteered information that was dated from two years before, when the Hojjatieh had targeted Mr. Hekmat-Shoar's business, which has been closed for two years.  Back then Mrs. Hekmat-Shoar was involved as a volunteer in a literacy campaign for more than a hundred Afghani children, and Hojjatieh had approached them at their place of business and had some words with them about this.
Mr. Hekmat-Shoar's inquiries with the Ministry of Education did not bear any fruit either. The school told him that the matter is no longer under their control, and that under no circumstances can they register Aref at this point.  It turned out that the Hojjatieh Society is very powerful in that region, and that Mr. Amiri works at the office of the Friday Prayer Imam [5], in collaboration with the Law Enforcement Forces, and that the Ministry of Intelligence and Security and others had decided to take this case away from the school authorities, and deal with it directly.  Mr. Hekmat-Shoar submitted an official letter of complaint; however, he decided not to take Aref back to school, because the school administration interaction was too harsh, and was not a healthy environment for a child to be exposed to.
Mr. Hekmat-Shoar talked about the tireless efforts by Mohammad Maleki, Mohammad Nourizad, and the father of Mostafa Karimbeigi, which unfortunately did not succeed in resolving the issue despite a lot of effort by these individuals.   Mr. Hekmat-Shoar expressed that he was very thankful to all, and particularly to Dr. Maleki, who despite his age and health issues exerted so much effort.
Mr. Hekmat-Shoar then spoke about the pressure on him and his family by the Islamic Republic Revolutionary Guard Corps ( IRGC) [6], and how they tried to intimidate him.  They asked Mr. Hekmat-Shoar to go to the IRGC office but he refused to go without an official letter telling him to do so.  Mr. Hekmat-Shoar is still pursuing various avenues to find a suitable school for Aref, but he said that if his latest efforts bear no fruit, he and his wife will home-school him.  He said they could use the material that Mrs. Hekmat-Shoar has developed for the Afghan children literacy campaign.
In response to a question about Aref's feelings and thoughts about all this, Mr. Hekmat-Shoar points out that Aref understands the situation, because he is aware of the story of his own father.  Mr. Hekmat-Shoar was expelled from university in 1982, where he was enrolled in the best Conservatory in Tehran.  He was expelled on charges of teaching the Baha'i Faith; they had asked his father to come to school and make a commitment that his son would no longer speak about the Baha'i Faith, but his father told the officials that his son was 16 years old and could make his own decisions.  Mr. Hekmat-Shoar then moved to the city of Gorgan and tried to enroll in the Gorgan Conservatory.  He needed to take a German language test to enroll, but the school, using the excuse that there were no German teachers available to test him, did not accept him there.
Aref knows about his father's history, and knows that Baha'is face such challenges and limitations in Iran; however, he also knows that in order to demonstrate to the world that they are willing to pay the price for the unity of mankind, they will endure such hardships to the extent possible.
Mr. Hekmat-Shoar adds: "Since a number of other grade schools in the region have also not registered Baha'i children, and the children were forced to go to other schools, it seems to me that this issue is no longer under the jurisdiction of the Ministry of Education.  It seems as though this may be a new process by which they want to test the reaction of the children.  If this continues to occur ‒ if this is in fact a new process ‒ it will be a very dangerous prospect.
1. Ritually unclean (najes): see https://en.wikipedia.org/wiki/Najis
2. The twelfth, or "hidden" Imam: see https://en.wikipedia.org/wiki/Muhammad_al-Mahdi
3. An anti-Baha'i society: see https://en.wikipedia.org/wiki/Hojjatieh
4. Qom is the location of one of the two most important centers of Shi'ite Islamic learning. See https://en.wikipedia.org/wiki/Qom_Seminary
5. The Friday Prayer Leader, or Imam Jum'ah, of an Iranian city is typically one of the most powerful officials in the city.
6. Literally "The Army of the Guardians of the Islamic Revolution" ‒ see https://en.wikipedia.org/wiki/Army_of_the_Guardians_of_the_Islamic_Revolution