Source: hra-news.org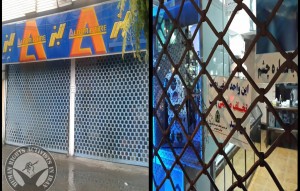 Translation by Iran Press Watch
HRANA News Agency- Fifteen shops belonging to Baha'is were simultaneously sealed and closed by Chambers of Commerce of three cities of Sari, Qaem Shahr and Tonekabon in the province of Mazandaran.
According to HRANA (Human Rights Activists News Agency in Iran), a Baha'i citizen confirming the news told them: "On Saturday November 14, which coincided with a Baha'i holiday, these Baha'i business and shop owners closed their shops in observance of the occasion. Presumably, the sealing and closure of these businesses by the authorities on the very same Saturday was due to that observance."
The names of these Baha'i business owners are as follows:
In Sari:
Ashkan Khalili- Electrician
Behzad Zabihi- Optician
Bozorgmehr Horr- Optician
Hooshmand Goli- Garment shop
In Qaem Shahr:
Nima Noukhaah- Toy store
Sohrab Laghaai- Optician
Soheil Hagh Doost- Optician
Farzad Sabeti- Tire shop
Nima Meeri- Health and Beauty supply
Changiz Derakhshaaniaan- Beauty and Medical supply
In Tonekabon:
Omid Ghaderi- Alarm and Security equipments
Farhad Taghipoor- Air Conditioning
Ruhollah Ighani- Refrigeration
Michel and Armin Esmailpoor- Air Conditioning
There have been reports of closures of many Baha'i businesses due to their observance of their religious holidays. In just the first half of this year in Sari, thirty-two Baha'i shops and businesses were closed for over 1700 days in total.
"There are nine Baha'i holidays in a year that sometimes do not coincide with official Iranian Calendar holidays. Baha'is close their businesses and do not work in observance of these holidays. Although Chambers of Commerce and authorities do not recognize their right to close shops, Baha'is do not give up their right", a Baha'i explained as reason for these constraints.
In the opinion of HRANA legal consultants, according to the article 28 of the bylaws of Business Laws (in Iran), it is illegal for a business to:
1- Stay closed for more than 15 days, and
2- Without prior notice to the authorities.
However, the total Baha'i holidays in a year is less than 15 days and Baha'is have consistently informed authorities of their intentions.