Source: hra-news.org
Translation by Iran Press Watch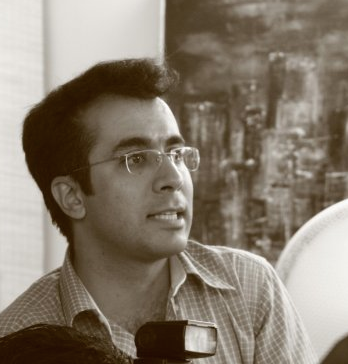 HRANA News Agency – Two weeks after his arrest, there is still no news of the reasons for the arrest nor the whereabouts of the Baha'i citizen, Navid Aghdasi.
Based on reports by HRANA (Human Rights Activists News Agency in Iran), Navid Aghdasi was arrested on Sunday, November 15th. Despite repeated requests by his family, no response has been offered by the judicial authorities as to the reasons for his arrest, and except for a brief phone call he has had no communication or visit with his family.
It should be noted that 16 other Baha'i citizens were also arrested in the cities of Tehran, Esfahan and Mashhad at the same time as Navid Aghdasi was detained.
A source close to this family has linked this arrest to the case of Ataollah Rezvani*. Ataollah Rezvani was a Baha'i citizen and a cousin of Navid Aghdasi, who was murdered in September 2013 in Bandar Abbas.
This source says: "It seems that Navid Aghdasi's arrest is due to his repeated follow ups in relation to the murder of his cousin, Ataollah."
Based on this source's report, in order to identify the perpetrators of this murder Navid Aghdasi had taken part in many interviews – including interviews with Voice Of America and Deutsche Welle – and had been threatened for these actions: "During this past summer, Navid Aghdasi was threatened twice by unidentified individuals and 'Death to Baha'i' slogans were written on the outside wall of his residence. Of course, so far his complaints to officials have had no results."
Regarding the Baha'i citizen who was murdered in Bandar Abbas, this source says: "Ataollah Rezvani was repeatedly threatened by unidentified individuals in Bandar Abbas. Furthermore, the City Information Office had summoned him several times, and the City Imam had repeatedly talked against Baha'is and had aroused public opinion against them in his sermons. After Ataollah Rezvani was murdered, officials did not pursue the case seriously, and covered up the facts of the crime. Therefore, it seems as though this murder was due to religious hatred. It has never been properly followed up, and to this date the murderer(s) and their motive have not been identified."
It should be noted that other family members of Mr. Aghdasi have also been harassed, detained and imprisoned in recent years, including Mohammad Hossein Nakhaii, Sahba Rezvani, Siamak Ighanian and Anisa Fanaian.
____
*Regarding the murder of Ataollah Rezvani, see http://news.bahai.org/story/966