Source: bahaicamp.com
Translation by Iran Press Watch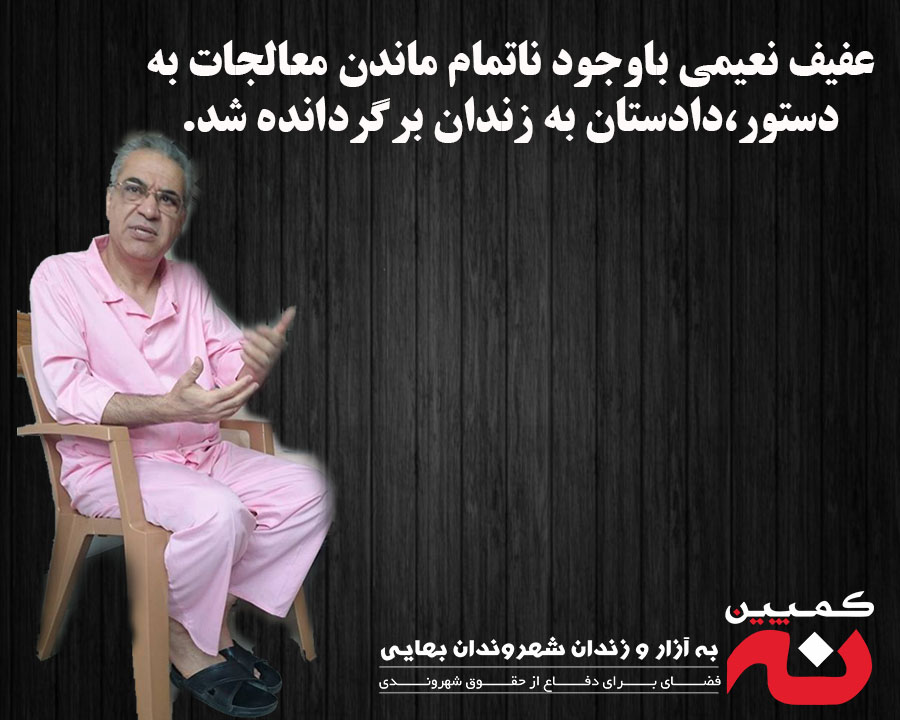 "No to the Harassment and Imprisonment of Baha'is Citizens Campaign" reports that Afif Naiemi, one of the seven imprisoned Baha'i leaders, who has been detained in Raja'i Shahr prison and who had been admitted for treatment for a few days in Tehran "Heart" Hospital, was ordered by by the prosecutor to be returned to prison although his treatment was incomplete.
Afif Naeimi is one of the members of a national-level group known as the "Yaran-i-Iran" – or "Friends of Iran". Six years ago he was sentenced to twenty years of imprisonment.
Afif Naeimi, 51, was long active in volunteer Baha'i service, teaching classes for both children and adults and serving as a member of the Auxiliary Board, an appointed position with the function of inspiring, encouraging, and promoting learning among Baha'is.
He is a businessman who was unable to pursue his dream of becoming a doctor, because as a Baha'i he was denied access to university. He diverted his attention to business, one of the few avenues of work open to Baha'is, and eventually took over management of his father-in-law's blanket and textile factory.
He was born on 6 September 1961 in Yazd. He was long active in volunteer Bahá'í service. He married Ms. Shohreh Khallokhi in the early 1980s. They have two sons.
Mr. Naeimi was admitted for heart treatment at a hospital in Tehran.
Seven Baha'i members of the Yaran who were initially sentenced to twenty years of imprisonment have long served both Iranian society and the Baha'i community.
Six of the Yaran were arrested at their homes on 14 May 2008, and the seventh member, Ms. Mahvash Sabet, was arrested before others on 5 March of the same year, while on a trip to the city of Mashhad in the east of Iran.
All seven were in prison for several weeks before being officially charged.