Source: hra-news.org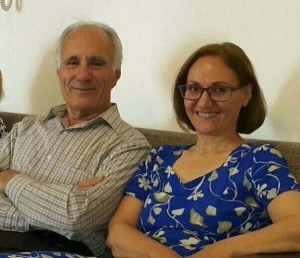 HRANA NEws Agency – The Ministry of Intelligence in Sanandaj has detained a number of persons who have contact with a Bahai family, and has pressured them to submit private complaints against the family, which would accuse them of teaching the Bahai Faith or leading people astray.
According to the report of Human Rights Activists News Agency (HRANA), this took place in August and September this year.
On September 8 the 66-year-old father of the family, Zabihullah Raoufi, was arrested by agents from the Ministry of Intelligence, along with a number of non-Bahais. Four agents raided his home and seized CD's, books, pictures and other items relating to the Bahai Faith.
He later told a HRANA reporter that his own interrogation was "good," but after his release some of his non-Bahai contacts were detained and lodged personal complaints against him for no apparent reason.
One of these contacts, Mr. Muhammad Salahaddin Rashidian has said that while he was detained at the Ministry of Intelligence office he was threatened with charges of apostasy, which carries the death sentence, but promised freedom if he lodged a complaint against the Baha'is. He said that he knew of at least three others who were forced to lodge complaints against the Raoufi family in the same way. Their names are given as Entezar Rahimi, Mrs. Zhila Negahdar and Shahoo Mohammadi.
Mr. Raoufi said that they did not know exactly what had happened, but they had good relations with these people until they were arrested and released. Later, two or three of them came to apologise, saying they were forced to lodge a complaint. One even brought a signed letter saying he had been forced to complain. One of the complainants came to the Raoufi home in the middle of the night, shouting that he is the reason they arrested his wife and children.
Mr. Rashidian, who is now free on bail, said "I asked the interrogator what I could complain about, since they had not prosyletized or done anything, and he replied, 'just make a complaint, we already have a promise from them saying that even if someone asked them about the Bahai Faith, they would not answer.'"
Mr. Raoufi was arrested in 2009, and sentenced to 6 months in prison on charges of propaganda against the regime, followed by 6 months in exile. In June, 2011, the Ministry of Intelligence in Sanandaj conducted mass interrogations of the Baha'is there, seeking information on how Sanandaj's Bahai community is managed. One of those questioned was Zabihullah Raoufi. Parvaneh Rahmani-Raoufi, who was arrested on December 19, 2015, is the wife of Mr. Raoufi. It appears that she is still being detained.
If the Ministry of Intelligence's tactic is successful, it will enable the regime to persecute the Baha'is under the guise of private legal proceedings, and to enforce social isolation.