Source: BahaiNews1
Translation by Iran Press Watch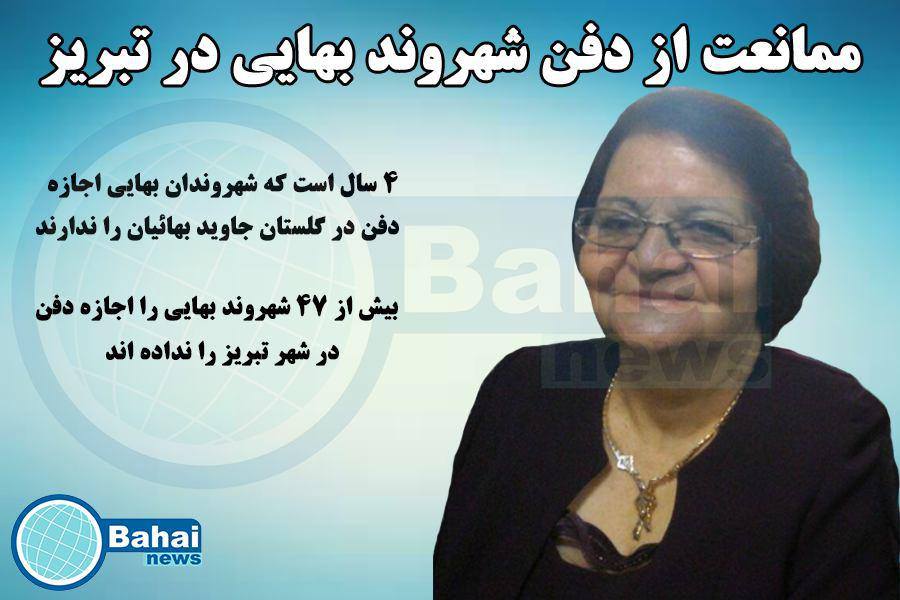 According to a "BahaiNews" report, after three days the family of a deceased Baha'i citizen who passed away on Friday the 15th of January could not secure a burial permit for her.
"BahaiNews", in an interview with Siamak Shafi'i, who lives in Washington, and is the son of the deceased (Afrooz Bakhshi), spoke regarding the denial of his mother's burial.
Siamak Shafi'i, in response to a question of Baha'i News reporter as to why his mother's body was not allowed to be buried, stated:
"From 2012 until today, Baha'is have not been allowed to bury their dead. On the same night that my mother passed away, her body was washed, shrouded, placed in a coffin and the Baha'i prayer for dead was performed. The following morning, my father went to the local Vadi-e-Rahmat cemetary in order to bury her body in accordance with Baha'i law, but the officials who were in charge of the cemetery informed him that they would not allow the body to be buried. They indicated that the family is not permitted to bury her in a coffin (based on an Islamic tradition that a body should not be buried in a coffin). The family should bury her based on Islamic rituals and not according to the Baha'i Faith's practices."
This Baha'i citizen in a conversation with the "BahaiNews" reporter, continues: "we know that neither from a psychological nor a health perspective is washing the body of a deceased loved one at home an acceptable practice, but as we did not want the body of my mother to be buried using Islamic ritual, my father and other relatives had to wash her body at home and subsequently transferred it to the cemetery's mortuary, and the body is still there."
According to this Baha'i citizen, officials of the cemetery indicated that if the body is removed from the coffin and interred according to Islamic rituals, they would be allowed to proceed with her burial. If the suggestion is not agreed upon, then the body would need to be taken to Urumiyyeh or Miandoab (several hours' drive away from Tabriz) for burial. In reply, his father and relatives indicated that they were not prepared to follow their instructions as they contravene Baha'i burial law (which requires that a body be buried within one hour of the place of death). They suggested that they would take the body and bury it themselves in that cemetery.
Based on what Siamak explained, his father contacted all government offices at the municipal, town and even provincial level, looking for permission, without using any sort of disagreeable language. The officials said that they have orders from higher-level authority not to allow the burial to go ahead, unless the family accepts the choice of burying her using Islamic rituals ‒ this was refused outright by my father. For this reason, according to the officials, the body would have to be transferred to Miandoab, which is two hours' drive away from Tabriz, on the following Monday.
Siamak Shafi'i continued his conversation with the "BahaiNews" reporter by pointing out: "Actually Miandoab cemetery does not exist in Miandoab but in another city named Mahabad. Also, Mahabad cemetery is located on a piece of land covered with hard black rocks which need a bulldozer to dig the grave. In addition, it takes two hours for the dead body to reach the cemetery, which contravenes Baha'i law. He emphasised that this cemetery has been allocated to Baha'is, and it is separate from the one specified for Muslims. Baha'is are not allowed to be buried in the same cemetery as Muslims, which is why they have segregated cemeteries.
According to this Baha'i citizen, on any occasion when authorities have transferred the body of a deceased Baha'i to Miandoab, they informed the relatives after the burial that the body has been buried. As far as we are aware, many Baha'is were actually buried according to Islamic rituals.
The "BahaiNews" reporter questioned Siamak about the number of deceased Baha'is who had not been allowed to be buried in Vadi-e-Rahmat cemetery, and he said, "based on available information, so far up to 47 Baha'i citizens have been buried in a place which is two to three hours' drive away from Tabriz, and not in Vadi-e-Rahmat. This deception has been going on for more than four years."
Siamak mentioned that nearly five years ago, when his wife's grandmother passed away, she was in fact the first person who was not allowed to be buried there, despite her very old age.
Siamak's father, himself, was previously was in charge of Baha'i burial in the community. This family, after the Revolution, and in particular in 1987, was confronted by a group of extremists in Ilkhchi, the town where they live. Their private residence, along with some personal property, was confiscated. Also, many Baha'i citizens' residences were set ablaze.
_____
1. "BahaiNews" is an independent non-Bahá'í initiative and is not affiliated with any Baha'i institutions.