Source: BahaiNews1
Translation by Iran Press Watch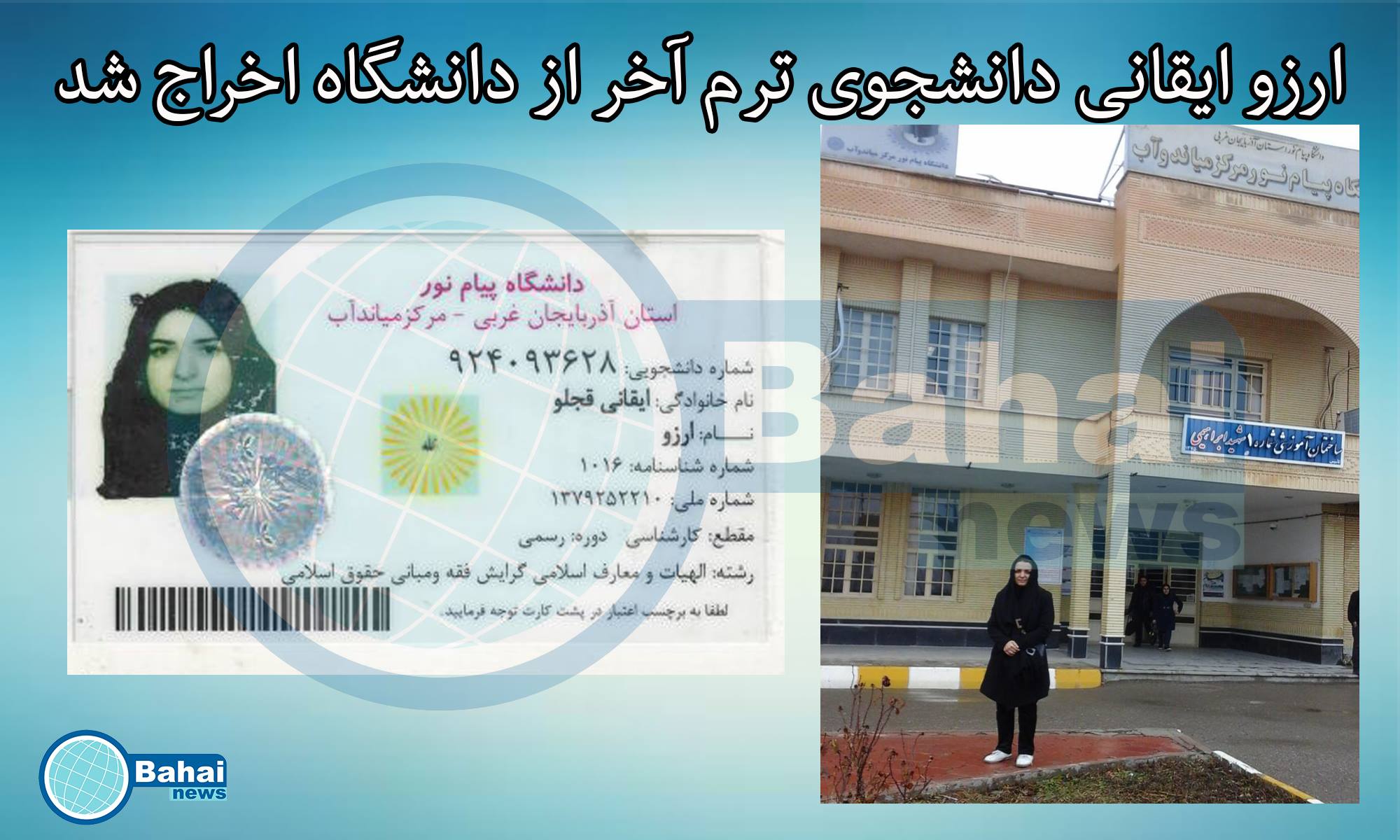 According to "BahaiNews", Arezoo Ighani, a Baha'i citizen residing in Miyandoab, has been expelled from Payam-e Noor Markazi University in Miyandoab, due to her belief in the Baha'i Faith.
Based on the same news source, this Baha'i student had been studying Islamic Jurisprudence and Law. During the enrollment process for her final semester, while choosing her credit units, she saw a note on her file that stated "to be prevented from continuing her studies". In investigating her situation to find out the reason why she could not complete her studies, she found that, as with other Baha'is who have been deprived from studies, she too was to be prevented from continuing her education.
Previously, Arezoo graduated from the Online Baha'i University (BIHE) in 2012.
In response to a question from "BahaiNews" reporter as to whether she had expected to be expelled from university, Arezoo replied, "It was not unexpected. In every semester during the final exams or enrollment, I was worried that it would be the last term of my study at the university."
She continues, "When I noticed that I could not continue my studies, I planned to finish the remaining credits at another university. In the process of making this change, I was told that my problem was not an academic problem. They also suggested that I not waste my money in transportation fares to apply to other universities, as it would be a fruitless effort."
According to Arezoo, the daughter of Mr Javid Ighani, as to why she wanted to speak with "BahaiNews", she indicated that she wanted to use this medium to declare, "O people! We all are human beings and the children of one just God!" She further said: "I wanted to tell my fellow countrymen that if you would give me a chance, I would also love to contribute my share in building a better Iran."
Other members of Arezoo's family, after the Islamic revolution, had been working for the PepsiCo bottling company, but their employment terminated abruptly due to their belief in the Baha'i Faith.
Previously, other Baha'i students whose beliefs were not known initially during their studies have been identified by Payam-e Noor Markazi University's Office of Protection, and subsequently expelled from the university.
The International Human Rights Proclamation dated the 10th of December 1948 declares that education is the equal right of every human being, regardless of race, colour, belief, religion or gender.
In previous years, the issue of "incomplete documentation" has been the reason for denial of Baha'is from continuing their studies; now it seems the same pattern follows.
In addition to preventing Baha'is from working in any government establishment, the deprivation of education to Baha'is based on a document approved by the "Supreme Council of the Cultural Revolution" on 25 February 19912. According to Article no 3 of the same document, not only should Baha'is be stopped from enrollment at any university, but during their studies, if it becomes clear that they are Baha'is, they should be barred from continuing their studies.
Deprivation of Baha'i citizens from education and working in government establishments began after the Islamic Revolution. The declaration of the Supreme Council of the Cultural Revolution of Iran has been systematically implemented.
____
1. "BahaiNews" is an independent non-Bahá'í initiative and is not affiliated with any Baha'i institutions.
2.  The memorandum detailing the secret blueprint for destroying the Baha'i Faith in Iran can be found here:  http://news.bahai.org/human-rights/iran/education/feature-articles/secret-blueprint