Source: BahaiNews1
Translation by Iran Press Watch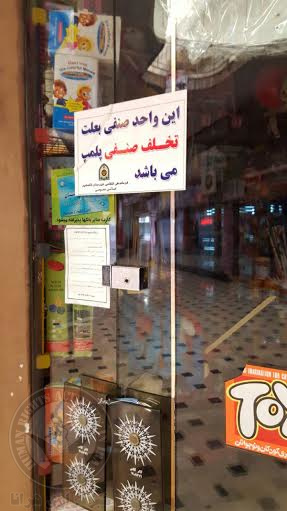 The "BahaiNews" reported few minutes ago that fifteen Baha'i-owned businesses in Qaemshahr were sealed because they closed their stores on Baha'i holidays.
According to this report, officials with the Qaemshahr Public Places Office, knowing which stores owned by Baha'is would be closed for the Baha'i holiday on April 20 20162, went to these shops and sealed them for unknown reasons.
"BahaiNews" reported that so far they have sealed shops of Shahin Sanai, Sohrab Laghai, Changiz Derakhshanyan, Bijan Nookhah, Nima Miri, Sohail Haghdoust, Bahaeddin Samimi, Behnam Mirzaee, Kourosh Ahmadzadgam, Adel Ataiyan, Kourosh Rezai, Fariborz Sanai, Rezvan Golpour, Shahin Akbari, Farzad Sabeti.
In the last few years, the Public Places Office has sealed many Baha'i-owned businesses in different cities.
"BahaiNews" has announced the reason for the sealing of these Baha'i-owned shops is due to the past opposition of the security forces to the nine yearly Baha'i holidays. We have often witnessed in the past few years the sealing of Baha'i-owned businesses and incarceration of Baha'i citizens just after Baha'i holidays. According to Iran's Commercial Law, business owners who are licensed to operate may close their shops for up to 15 days during the year, but they must inform the authorities at the Public Places Office that they will be closing their business for those 15 days.
______
1. "BahaiNews" is an independent non-Bahá'í initiative and is not affiliated with any Baha'i institutions.
2. This Baha'i holiday is the anniversary of the First of Ridvan, which is the day when the Founder of the Baha'i Faith, Baha'u'llah, first announced his revelation publicly, in 1863.