Source: news.bahai.org.uk
Actor and comedian, Omid Djalili, joined Members of Parliament Mark Durkan and Jim Shannon, together with members of the House of Lords and House of Commons, faith leaders, members of civil society, activists, and representatives of the Baha'i community on May 10 in an urgent appeal for the immediate release of the seven leaders of the Baha'i Faith who are imprisoned in Iran.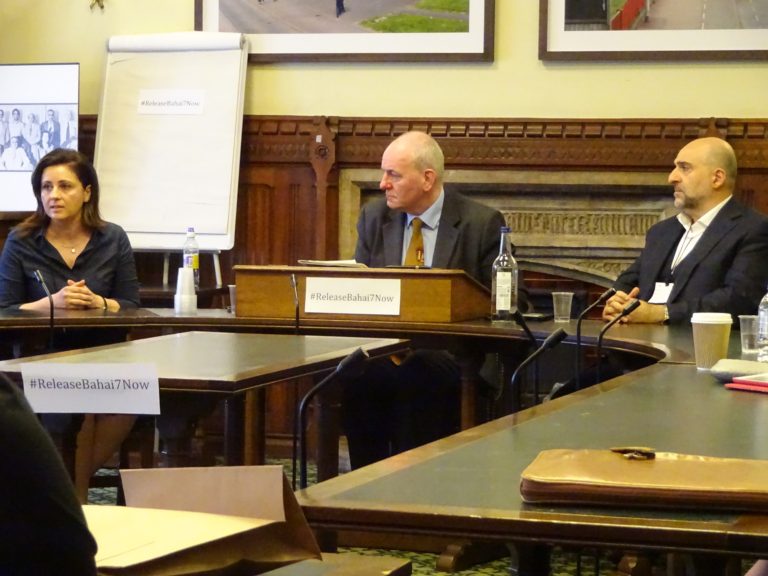 Padideh Sabeti, (left), Mark Durkam MP (centre) and Omid Djalili (left)
Mark Durkan MP hosted the event as part of a global campaign marking the eighth anniversary of the imprisonment of the Baha'i leadership in Iran. "The imprisonment of the Baha'i leaders in Iran is a violation of fundamental human rights," said Mr Durkan during the event at parliament on May 10. "It is simply unacceptable that these seven innocent leaders are in prison because of their beliefs. On this, the eighth anniversary of their imprisonment, I'm calling for their immediate release."
Mr Djalili added: "This campaign is coming in the context of a new global consciousness of human rights. These seven people are as important as anything else going on in the world today. Enough is enough, release the Baha'i seven now."
Padideh Sabeti, Director of the Office of Public Affairs for the UK Baha'i Community, shared that under Iran's own penal code, the seven are overdue for conditional release. "Under its own laws Iran has an obligation to release the Baha'i seven," Ms Sabeti said.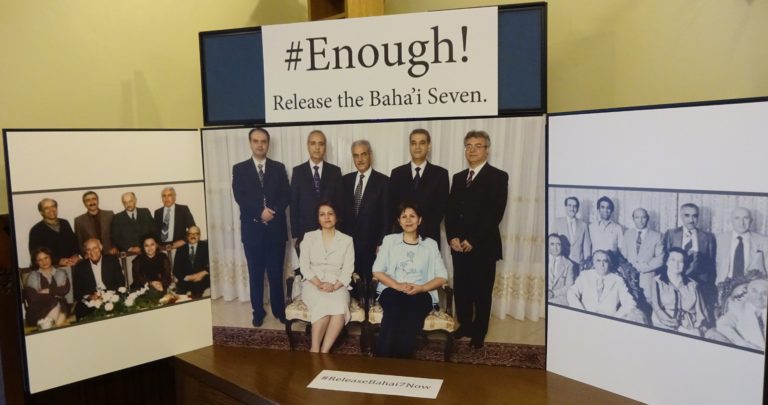 Photo display of the Baha'i seven (centre), the Baha'i leaders who were executed (left) and those that 'disappeared' (right)
Arrested in 2008, the seven Baha'is are amongst the longest serving prisoners of conscience in the world today. Their imprisonment is reminiscent of the disappearance and execution of previous Baha'i leadership councils in the 1980s, whose cases were highlighted in a photographic display at the event.
Supporters of the campaign have been urged to back the campaign by using the hashtag #ReleaseBahai7Now.