Source: www.cnn.com
By Joe Sterling, CNN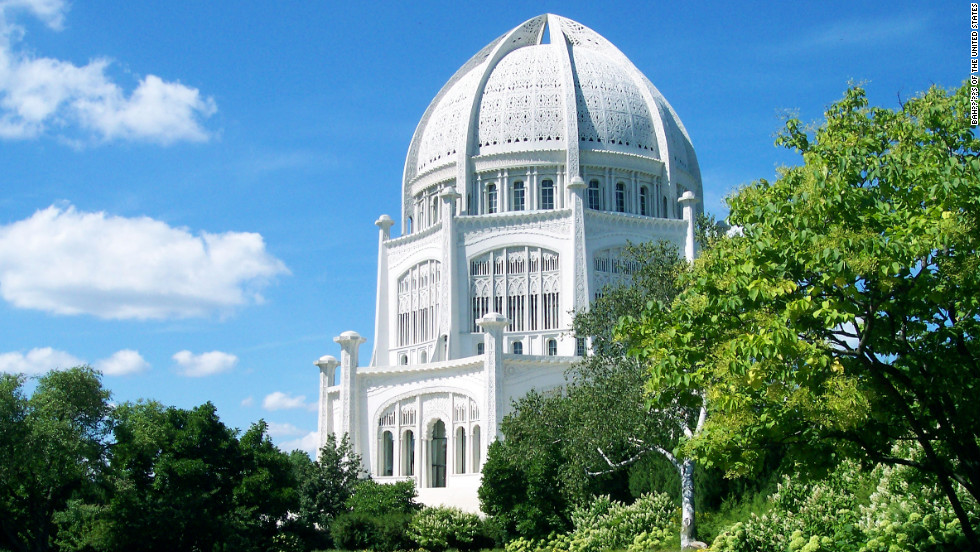 Adherents of the Baha'i religion can be found worldwide. Here is the Baha'i House of Worship in Wilmette, Illinois.
(CNN)–The United States condemned the 2008 arrests of Baha'i leaders in Iran Saturday and asked the Islamic Republic to free them. Iran arrested Fariba Kamalabadi, Jamaloddin Khanjani, Afif Naeimi, Saeid Rezaie, Behrouz Tavakkoli, Vahid Tizfahm, and Mahvash Sabet. They were all convicted of espionage, insulting religious sanctities, and propaganda against the Islamic Republic. They were sentenced to 20 years in prison.
"We join the international community in condemning their continued imprisonment and calling upon the Islamic Republic of Iran to release them immediately, along with all other prisoners of conscience in Iran," State Department spokesman John Kirby said in a statement issued on Saturday.
"Furthermore, we call upon Iranian authorities to uphold their own laws and meet their international obligations that guarantee freedom of expression, religion, opinion, and assembly for all citizens," the statement added.
A news release from the U.S. Baha'is said that while the seven leaders were each sentenced to 20 years, their sentences have reportedly been dropped to 10 years.
They said the seven have been in imprisoned since May 14, 2008 solely for their beliefs and have been "completely denied due process" and "denied equal treatment under the law."
In the past, Iran has said Baha'is are respected as citizens. But the group, which the government calls a sect, is regarded with suspicion.
"We (as the state) offer a variety of services to the Baha'i sect in Iran and respect them as human beings, but not as insiders, spies, or a political grouplet supported by Britain and Israel to cause disturbance in Iran," Iran's former Prosecutor General Qorban-Ali Dorri-Najafabadi said in 2009, according to a report by Fars News Agency.
U.S. agency sounds alarm over Iran's treatment of Baha'is
Robert George, chairman of the U.S. Commission on International Religious Freedom, and Katrina Lantos Swett, a USCIRF commissioner, co-wrote a column for the Religion News Service on Friday about the persecution of the group — a community numbering more than 300,000 members in Iran, that country's largest non-Muslim religious minority.
Iran's government is intent on eradicating the group, they say. The group they represent, USCIRF, describes itself as an "independent, bipartisan U.S. federal government commission."
"While pursuit of that goal (eradication) remains, its intensity ebbs and flows in response to the level of world attention and outrage. Unfortunately, there are signs from this past year that persecution is on the upswing, calling for greater world outrage at Iran's abuses of this peaceful religious community."
George and Swett said that since the Islamic Revolution in 1979, more than 200 Baha'i leaders have been killed and more than 10,000 have been let go from government and university positions. There have been arbitrary arrests over the years.
"Baha'is effectively are prohibited from attending colleges, chartering their own worship centers or schools, serving in the military, and obtaining various kinds of jobs. Even Baha'i marriages are not recognized."
There are "ominous signs of a renewed government crackdown" in the past year, George and Swett wrote. The Iranian government cranks out propaganda dehumanizing the group and creates a climate of violence, they say.
Iran's Supreme Leader Ayatollah Ali Khamenei issued a religious edict, or fatwa, in 2013 calling for Iranians to avoid "dealings" with Baha'is and labeled the group "deviant and misleading," news reports said.
The writers note that other minorities — Christians, Sunnis, Jews and Zoroastrians — also face discrimination in Shiite-dominated Iran.
"But what distinguishes mistreatment of the Baha'is is the stark evidence that eradication is the goal. From laws that push Baha'is to the margins of society to government-sponsored propaganda that degrades and dehumanizes, from mass detention and imprisonment to the closing of businesses, from allowing societal violence against Baha'is to failure to prosecute perpetrators, all signs suggest that Iran's government seeks religious cleansing of this community," they wrote.
George and Swett noted that Christian pastor Saeed Abedini was released from captivity in January by Iran and it is time that Iran "do likewise to all religious prisoners, including the Baha'i Seven and the imprisoned Baha'i educators, and other prisoners of conscience."
The Baha'i religion, founded during the 19th century in Iran and now with millions of adherents worldwide, is a monotheistic faith that focuses on the spiritual unity of humanity.
The clerics who hold sway in Iran regard the Baha'i faith as blasphemous because its founder, Bahá'u'lláh, declared himself to be a prophet of God. Muslims believe the Prophet Mohammed was the last prophet of God.