Source: BahaiNews 1
Translation by Iran Press Watch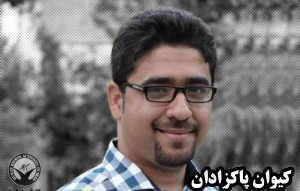 Based on reports from "BahaiNews", after ten days Kayvan Pakzadan is still under interrogation, and has been unable to contact his family.
Based on an earlier report by "BahaiNews", Kayvan Pakzadan, a Baha'i citizen, was arrested by agents of the Ministry of Intelligence at 10 AM on 1 June 2016, while he was en route to his office, on a street next to his sister's house, and after his sister's residence and his workplace had been searched.
As reported by informed sources, these security agents searched all the personal belongings of this Baha'i citizen's sister and brother-in-law and confiscated their cellular phones, laptop and flash drives, their marriage certificate, will, work related receipts and notes and the receipt for a ring, as well as one signed blank check.
After taking Kayvan to his office, these security agents also confiscated his office laptop and all business contracts with his clients, as well as articles of incorporation and office notes.
Based on a conversation with an informed source, the Baha'i News Agency announced that after the arrest of Kayvan Pakzadan by agents of the Ministry of Intelligence, his parents traveled from the city of Kalaleh in Golestan Province to Tehran. Despite numerous attempts, they were not able to learn at what location their son was being held.
Based on this report, Kayvan's father, Abdol-Hosayn Pakzadan, has contacted the Intelligence headquarters telephone number 113 times in the past few days, and has asked officials in this headquarter to allow him to speak with his son, and to follow up his case. These officials have stated that his requests would be conveyed to officials at the Holy Martyr Ardabili public prosecutor's office. This request had not led to any response through the eighth day after his arrest.
As stated by informed sources: "on 5 June 2016, Kayvan's father personally went to the Holy Martyr Ardabili public prosecutor's office, and officials told him that no one by that name had come to that office, and that he should follow up later. On June 7th, the seventh day after Kayvan'sarrest, his father went to this office and discovered that Kayvan was being interrogated there."
This informed source continued: "Kayvan's father met with the Inspector of Security Branch 3 of the prosecutor's office, who was a cleric named Haj Agha Hoseini, and requested to have a telephone conversation with his son. However, after speaking with the interrogator, that individual said that he does not permit any contact during the period of the interrogation, and so it must be postponed to a later time. Mr. Hoseini continued to say that Kayvan Pakzadan was there with him, and that he is the judge in charge of his case. He was detained and was being interrogated there, and when the time came, permission for a telephone conversation would be granted."
Based on information from the Baha'i News Agency, Kayvan Pakzadan was not allowed to contact his family till yesterday. Yesterday, on June 8th, he was given permission to contact his family for only three minutes. Despite that, as related by informed sources, he did not sound as happy and fresh as usual, which was an indication of his fatigue during the interrogation.
On 30 October 1983, Abdol-Hosein Pakzadan was pursued by agents of the Islamic Republic, along with 80 Baha'is from the cities of Gonbad-Kavoos and Gorgan, owing to his membership in the Baha'i Assembly of Kalaleh prior to August 1983 (before the Prosecutor General's announcement of the illegal status of all Baha'i Assemblies in the country). Following an approximately one year displacement from his home, he was arrested in September 1984 in Tehran by officials from Evin Prison. He was interrogated and transferred to the Revolutionary Court of Gonbad by Mr. Tolouei, the official in charge of the prosecution and torture of Baha'is. After four months of solitary confinement, interrogation, harassment and torture, he was transferred to the same cell as other Baha'is, and after four years of imprisonment, was released from the Fariabi Prison of Gonbad-Kavoos in July 1988, along with other remaining Baha'i prisoners.
_____
1. "BahaiNews" is an independent non-Bahá'í initiative and is not affiliated with any Baha'i institutions.