Source: www.justice4iran.org
Translation by Iran Press Watch
September 23, 2016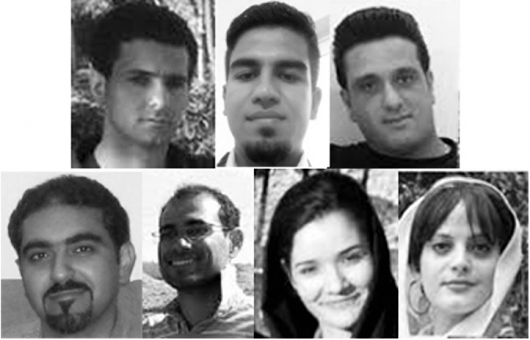 Yekta Fahandej and Nabil Tahzib, two environmental activists who were arrested in Shiraz, continue to be held in the Intelligence detention center in Shiraz; they have been charged with acting against national security and propaganda against the regime.
Based on reports sent to Justice for Iran, Behnam Azizpour, Saeid Hasani and Esmaeil Rousta have been temporarily released on payment of 200 million tumans (approx. $63,600) bail, until their assigned court time. These three environmental activists spent the last ten days of their detention in the quarantined section of Shiraz's Adel-Abad Prison, among prisoners accused of ordinary offences and in very harsh sanitary conditions.
A source close to these activists has told Justice for Iran that they were beaten during interrogations.
The interrogators hit the faces and sides of the bodies of the detainees with their fists, and also pulled out the fingernail of one of them. During interrogations they were blindfolded while facing the wall, and were dishonored, threatened and pressured to make commitments.
Environmental activists Yekta Fahandej Sadi, Noushin Zenhari, Behnam Azizpour, Saeid Hasani, Ramin Shirvani, and Esmaeil Rousta were arrested on 16 July 2016 by agents of the Intelligence office of Shiraz while they were discussing environmental issues at the home of one of their friends. They were transferred to the Intelligence detention center of Shiraz, known as "Number 100". On 17 July, two other Baha'i citizens,Nabil Tahzib and Naeim Ghaed-Sharafi, were arrested in relation to the same case.
Naeim Ghaed-Sharafi was released a day later, on 18 July, and Noushin Zenhari and Ramin Shirvani were released on 13 and 21 August, respectively, each on payment of 200 million tumans ($63,600) bail.
It appears that the reason for the arrest of some of these environmental activists, who picked up trash around Shiraz on weekends, was the fact that they were Baha'is.
The Intelligence Office of Shiraz had warned the families of the detainees not to spread news regarding the condition of their children, and had asked them not to provide any information related to this.
Yekta Fahandej Sadi, a Baha'i citizen who was arrested for her environmental activism, had also been arrested and interrogated in January 2012 and February 2014. She was free on payment of 200 million tumans bail. A week before the third arrest, she had been sentenced to 5years of incarceration, charged with acting against national security and propaganda against the regime.
60 days of solitary confinement and interrogation for environmental activists in Shiraz.