Source: www.bic.org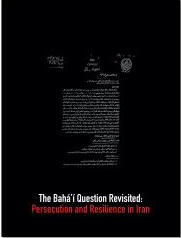 A new report from the Baha'i International Community
Published in October 2016, this report examines how the Iranian government has for nearly forty years pursued the systematic persecution of its Baha'i citizens, who represent the largest non-Muslim religious minority in Iran.
Among other things, the report charts how the government has shifted its tactics over time in response to the international outcry over human rights violations against its Bahá'í citizens, moving more towards social, economic and educational discrimination.
The 128-page report also presents numerous statistics about the persecution, such as year-by-year totals of arrests, numbers on how many Baha'is have been specifically expelled from university for their beliefs, and a minimum count of documented incidents of economic discrimination, such as dismissals and shop closings.
The report also examines the history of the persecution, offering an explanation for why it continues in the face of international pressure, the condemnation of activists, and the objections of ordinary Iranians.
And it offers numerous human stories about the impact of the persecution on the lives of Baha'is in Iran, showing how they have responded with surprising reserves of resilience and, even, small initiatives aimed at the betterment of Iranian society as a whole.
An extensive appendix reproduces numerous secret government documents that show unequivocally that such persecution is official policy.
Note that a number of extra, online-only resources can be found on this page. They include: