Source: BahaiNews1
Translation by Iran Press Watch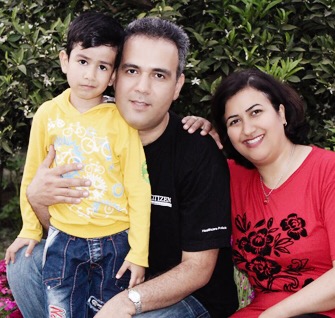 Based on a report by BahaiNews, Azita Rafizadeh, a Baha'i imprisoned at Evin Prison, has written a letter from the women's ward of that prison, which is published below. This Baha'i citizen and her husband, Payman Koushkbaghi, are serving 4 and 5 year prison sentences, respectively. Payman Koushkbaghi was transferred from Evin Prison to Rajai Shahr Prison in the last few days.
The text of this letter is shown below:
Our home, broken to pieces
When I started my four-year prison sentence on 25 October 2015, I entrusted my six-year-old Bashir to his loving father's embrace. While in prison, I heard that my son had calculated the number of nights we would be separated based on my prison term, and had said "I have to sleep 1440 nights before my mother returns." 126 days of my son's painful nights had passed when, on 28 February 2016, my husband was also arrested and transferred to Evin to serve a five-year sentence. And all of a sudden, Bashir was completely alone. The thought of my 6-year-old staying in our home with no parents left a constant lump of sorrow in my throat. I had no refuge, and it was no use pleading for justice with the judicial authorities, even members of parliament or anyone we hoped could help us.
Since my husband was held in the same prison as I, my one source of joy was bringing our broken family together every Wednesday at the visiting hall of Evin Prison. This helped Bashir to experience being with family and feel his parents near him for one hour each week. One-thirty PM on Wednesdays was a beloved time for Payman, Bashir and me, and we experienced being a family. However, that did not last either.
On 6 October, 2016 they called me to meet with Payman. It was a farewell meeting. They transferred Payman to Rajai Shahr. Even though he was held in Penitentiary Number 8 and I was in the Women's ward of Evin Prison, and Bashir was with us only one hour a week, I was happy that we were both in the same prison. We were grateful for the opportunity to act like a family and sit together as parents and child once every week. Sadly, even that joy did not last for my Bashir.
During the next visit, Bashir said: "Mom, dad will not come today. I know they have taken him from here." I did not know what to tell him anymore. He is only six and a half years old. I cannot bear to see his young heart in turmoil anymore. His concerned look away from his parents penetrates the deepest parts of my soul more than any loud cry. I am a mother, and he is my little child. I closely embrace him, while they take him away from me one more time. And we safeguard our broken family, while I am in Evin, Payman is in Rajai Shahr and Bashir is at home.
____
BahaiNews is an independent non-Bahá'í initiative and is not affiliated with any Baha'i institutions.