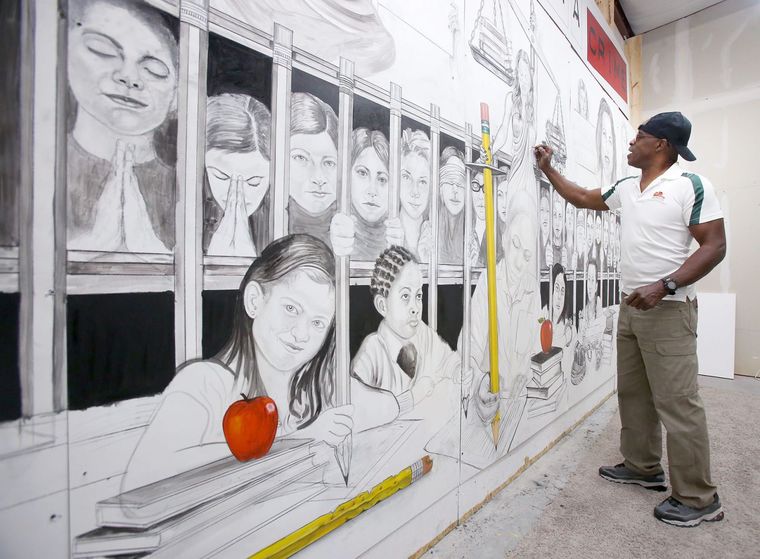 The Iranian government is systematically persecuting a group of 300,000 Baha'is. Since the 1970s, the government has executed the religion's followers and leaders and continues to target, jail and harass believers and block their access to higher education and therefore, a better life.
Fifth-generation Baha'i and Waco resident Fuad Khozein, 63, knows firsthand the persecution in Iran and how it has progressed since he left his birth country at age 17.
While the persecution dating back to the country's 1979 revolution isn't news to the Waco Baha'i Center, members hope a new mural will shed light on the lack of access to education, not only in Iran but around the world.
On Nov. 12, the Waco Baha'i Center, 2500 Bosque Blvd., will unveil a mural during a dedication from 2 to 4 p.m. as part of the Education Is Not a Crime initiative. The movement works to raise awareness of Baha'is' struggles in Iran and encourages street artists to create murals to spread the message.
Khozein said the movement was spurred after the American political drama "Rosewater," directed by Jon Stewart, was released in 2014, based on the true story of journalist Maziar Bahari's imprisonment in Iran for suspicion of being a spy. During the imprisonment, Bahari met Baha'i prisoners who told their stories of underground universities and the lack of access to higher education, he said.
Khozein said the Waco Baha'i Center began discussing the idea of a mural when one of the members started showing the work of local muralist Tony Bryant.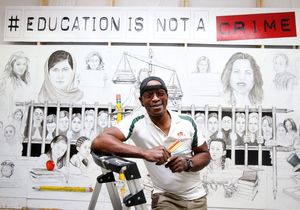 Bryant, who started his painting career at age 5, said his enthusiasm for the Waco Baha'i Center's mural stems from his respect for the women who influenced him early in his life. Bryant's murals can be seen at Guthrie Trailer Sales, inside Poppa Rollo's Pizza in Hewitt and at the Dublin Rodeo Heritage Museum, among other locations.
Young Baha'i adults — women and men — are prohibited from obtaining any higher education, are harassed, detained, excluded from job opportunities, and denied freedom of movement, speech and worship in Iran, said attorney Michael Jones, chairman of the local Baha'i administrative body. Baha'i children in Iran are humiliated and demonized by school teachers and fellow students, Jones said. Ten Iranian women were arrested and hanged in 1983 in the city of Shiraz for teaching Baha'i children about their own faith, he said.
Khozein said Iran's laws stem from religious hatred. He said his uncle was executed for being a member of the Baha'i faith and for refusing to deny his beliefs. He said he believes the persecution is about stopping Baha'is from attaining skills to earn a better living and, ultimately, to alienate the Baha'i community altogether.
The Iranian government can't execute everyone, so they stop the Baha'i community from attaining a higher education, and prevent them from owning businesses, all in an effort to dismantle their capacity for existing, he said.
Bryant designed the mural featuring the faces of women of all ages and ethnicities, some crying, praying, blindfolded or simply with their eyes closed.
In the middle stands "Lady Justice." She's crying. A diploma is handcuffed to a gavel. A small clock in the bottom left corner reads 9:11.
Why?
"This is an emergency," Bryant said. "This just hits home. I don't know what I would have done if someone would have taken one of my sisters."
Brenda Khozein, secretary of the local Baha'i administrative body and Fuad Khozein's wife, said when the national Baha'i center sent out the Education Is Not a Crime campaign two years ago, she knew art would be a powerful way to spread a message.
She said as members of the Baha'i faith, they believe there is only one God, and that is the God of everyone. Because of that, everyone is connected, she said.
Freedom of expression
Fuad Khozein said he has always believed artists should be free to express themselves in their work. So once the center gave Bryant the theme of Education Is Not a Crime, it turned him loose to create.
"We gave him the freedom to be creative. That's what you see. It's beautiful. I was just so impressed by it," he said. "If you look deeply, he's expressing that education should be available to all."
Bryant said he would be lost without women. He grew up around seven women in his family who taught him everything, he said.
Incorporated into the mural are parts of Bryant's life as well as the faces of women persecuted for receiving or giving education.
Toward the bottom of the mural, Bryant painted a chewed-up pencil.
He said when he was about 14 years old he noticed one of his older sisters biting a pencil while she worked. When he asked her why she did that, she told Bryant every woman has a stress pencil.
It wasn't until years later he learned that might not be true, Bryant said with a laugh.
Bryant created his mural across five panels, allowing him to complete the work in his studio, and allowing the mural to move with the Baha'i Center if it ever relocates.
The panels will attach to the wall at the center, said Jo Welter, Community Race Relations Coalition board chairperson. Welter said at first she was concerned that not enough people would know what Education Is Not a Crime stood for.
Then she saw the mural.
"I noticed all across the bottom there were like these women behind bars, but as I got closer I realized the bars are pencils and I was so moved by that," Welter said. "I'm so blown away by that kind of creativity."
—–
If you go
What: Dedication of mural for Education Is Not a Crime movement, by Tony Bryant
When: 2 to 4 p.m. Saturday
Where: Waco Baha'i Center, 2500 Bosque Blvd.
Details: For more information, go to www.wacobahaicenter.org or notacrime.me.
More about Mural