Source: www.bbc.com
15 November, 2016
Translation by Iran Press Watch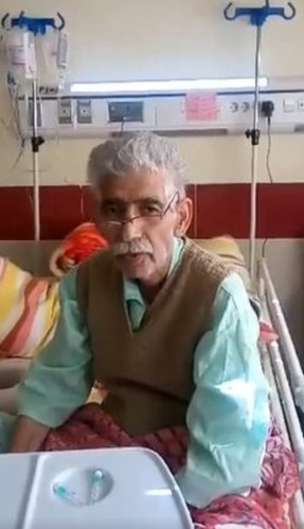 Zekrollah Rahmanian was fighting cancer in the Imam Khomeini Hospital when he was notified that the Law Enforcement Forces of the Office of Public Properties had closed and sealed his optical supplies store.
His relatives told BBC Persian the reason that this news did not surprise Mr. Rahmanian too much was because he knew that Officers of the Law Enforcement Forces of the Office of Public Properties would visit all Baha'i-owned stores in Mazandaran Province and seal all shops that were closed during Baha'i religious holidays.
Those close to Mr. Rahmanian say that about four months ago, in order to be sure to prevent the potential sealing of his Shop or incur additional taxes, he had notified the Trade Union and Department of Finance officials that he had pancreatic cancer and would not be able to work for a few months.
On Thursday, 20 November, a week after his shop was sealed, Zekrollah Rahmanian passed away at the age of 67. He is one of dozens of Baha'i residents whose shops were recently sealed shut in Sari, Qaemshahr and several other cities.
From optical supplies stores to refrigerator shops to oil change and car repair, a new wave of Baha'i shop closures in Iran started on the 1st and 2nd of November this year, which coincided with two of their religious holidays.
Baha'is have nine days of religious holidays on which work is prohibited ‒ but not working on these particular days, in some cities, is considered "disorderly conduct in the market" and "Baha'i propaganda" by the authorities.
One of the Sari Baha'i businesses tells BBC Persian that although there are no private plaintiffs, nor has he committed any trade crime such as insufficient sales or inflated merchandise prices, suddenly, over the past two years, the Office of Public Properties started to seal his business, once for a period of six months, and again for about two months, on charges of trade wrongdoing.
A few other Baha'i shopkeepers have told BBC Persian that the Office of Public Properties in Sari, led by Major Hasan Babaie, desires only one thing: to gain permission from
the authorities prior to the Baha'i holidays, and if permission is granted, to wait for Baha'is to close their shops.
Baha'is say they have no problem with informing the authorities, but they view having to ask for permission regarding a religious obligation to be inappropriate, especially because they believe the law allows any business owner a legal maximum of 15 days to close their shops without informing ]trade officials.
They say that monitoring and closure of the Baha'i businesses in Sari and Qaemshahr, using "various excuses", for the past several years, has become a routine exercise.
Officials of the Islamic Republic of Iran have repeatedly called discrimination against Baha'is an unfounded accusation, and have claimed that they have never dealt with Baha'is on the basis of their religion.
However, in 2007, the commander of Iran's Law Enforcement Forces ordered the Office of Public Properties across the country to monitor the businesses of Baha'is in various fields of trade and to prevent them from entering high-income businesses.
This order stipulates that "Baha'is should not work or be active in the press, publications, jewelry and gold, watchmaking, printing, engravers, tailor schools, photography, film and video, internet gaming, computers or internet cafes."
Sari and Qaemshahr Baha'i shopkeepers say that their efforts to unseal their businesses have amounted to nothing; the trade offices as well as law enforcement in the province of Mazandaran have claimed to have no information about the closure of their businesses.
Five of them – On Tuesday November 8th, Sohail Haghdoost, Nima Nokhah, Alaeddin Mirzaie, Arsham Golpour and Shahrouz Zamani – who had gone to the Provincial Building in Sari to seek justice, were arrested on charges of illegal assembly and rioting.
It seems that due to the sensitivity of this issue and the existing security issues, lawyers are abstaining from representing these individuals.
One of the shopkeepers in Qaemshahr says that the authorities tell us this act is illegal; they say "When you close all your shops the same time, it is propaganda for the Baha'i Faith and is costly for the regime."
He says his neighbors had been unaware of Baha'i holidays, but "now that the businesses have been sealed, I am forced to talk about my religion with others."