Source: www.iranwire.com
Friday, 25 November 2016
Author: Maryam Dadgar
Translation by Iran Press Watch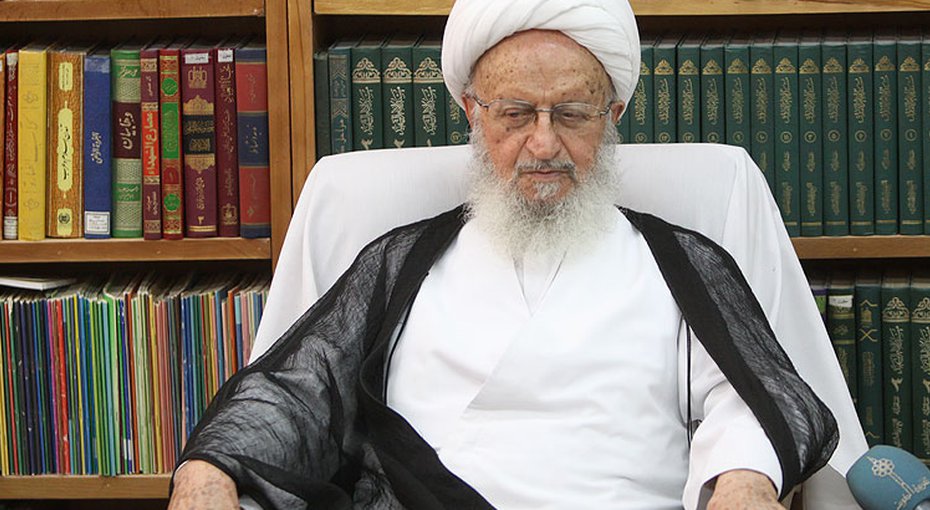 In a November 3, 2016 meeting with two delegates from Indonesia's Ministry of Religious Affairs who were visiting Iran, Ayatollah Makarem Shirazi[1] said: "Our adversaries make propaganda against us, and claim that religious minorities do not enjoy freedom in Iran, but they are living in perfect freedom and security, and this propaganda is undoubtedly false." He has also stated: "I have issued a religious ruling to forbid insults to Sunni religious sanctities", and to prove his claims, he said: "the children of one of the distinguished Sunni clerics address me as their uncle."[2]
Regarding the situation of Baha'is in Iran, Ayatollah Makarem Shirazi told officials of Indonesia's Ministry of Religious Affairs: "Some people have made contacts with Indonesia's Ministry of Religious Affairs and claimed that they are representatives of a religious sect in Iran; I must hereby state that Baha'ism is not a religious sect."[3]
The following is a review of the situation of religious minorities in Iran, as compared to the views of "Uncle Makarem" regarding the "complete freedom and security of Sunnis, the largest Muslim minority, and Baha'ism, the largest non-Muslim minority in Iran".
Sunnis, the largest Muslim religious minority
Ahmad Esmaeili, the spokesperson for the Central Sunni Council (Shams), who was the Friday Prayer Imam in the city of Javanroud, in the Province of Kermanshah for three years, says: "The country's Sunni clerics are concerned about the policies of the Islamic Republic of Iran with respect to Sunnis." He adds: "Currently there are approximately 170 Iranian Sunni prisoners at Rajai-Shahr Prison in Karaj. The closure of Sunni religious schools and interference in their religious affairs have to be stopped. Why has there been no mosque for Sunnis established in Tehran?" He reiterates that: "The special account to assist with the establishment of a Sunni mosque in Tehran was closed and seized in 1981-82."[4]
Mohammad Hossein Gargij, the Sunni Friday Prayer Imam of Azadshahr, complains about the insults on Iranian Television and Radio against their sanctities, and says: "We do not accept insults, either visual or as speeches released on National media. Radio and television should not cause disunity and polarization."[5] A Turkmen Sunni cleric says: "No solution for unity between Shia and Sunni can be seen in Iran, and Molavi Abdol Hamid, the Sunni Friday Prayer Imam of Zahedan, criticizes the current conditions of Sunnis."[6]
Shahram Ahmadi, a Sunni Iranian citizen says: "Iranian Sunnis have always witnessed insults to their sanctities, even by the so-called national media. Their children are obliged to be educated in schools and study books which are against their religious beliefs."[7] He has very simple demands, including: "Respect Sunni sanctities, eliminate discrimination, adjudicate the lost rights of Sunnis, and create a suitable environment to announce and express religious rites." [8]Shahram Ahmadi was executed in August 2016, along with 21 other Sunni prisoners. In a video interview which took place a few days before his execution, he said this about his case: "Judge Moghiseh said: "You are guilty of three crimes. First, you are a Kurd. Second, you are a Sunni, and third, you acted against the regime. Each one of these offenses deserves execution." Sunni religious leaders in Iran severely condemned the executions of these Sunni prisoners.[9]
Referring to the executions of Sunnis in its latest report, Amnesty International says defendants are tried and sentenced to death behind closed doors, based on vague and unsubstantiated charges. They are tricked into untrue confessions, based on promises of freedom after they confess.[10]
Mohsen Kakarash writes: "In court, Sunni prisoners are usually faced with charges such as acting against National security, propaganda against the regime, membership in Salafist groups, corruption on earth and taking up arms against Islamic laws." However, Mahmoud Amiri Moghaddam, the spokesperson for Iran's Human Rights Organization, says that in addition to charges of taking up arms against Islamic laws etc, recently the Judicial Office has added murder charges to these individuals' offenses. The pain and suffering of the Sunni minority is, however, not limited to these cases. Many years of effort by this minority to establish a mosque in Tehran has had no result; even a Sunni central prayer building in the Pounak neighborhood in Tehran, which was a place for holding religious observances, was destroyed by government forces.[11]
Baha'is, the largest non-Muslim, religious minority 
Human rights activist Mehrangiz Kar says: "The condition of Baha'is in Iran is even worse than the conditions of South African blacks when the apartheid regime governed that country." According to Mrs. Kar, the South African apartheid regime prohibited integration between blacks and the whites, but it did not deny any black from education and did not prevent religious freedom.[12]
In order to clarify the disastrous dimensions of discrimination against religious minorities in Iran, "Uncle Makarem" might have needed to explain to the Indonesian delegates that after the establishment of the Islamic Republic, at the same time that Baha'is were excluded from the Constitution and all their civil and human rights were terminated, arrests, torture and executions began. Moreover at the same time as the destruction of their religious, historic and cultural sites, ravaging of their cemeteries, confiscation of their hospitals and clinics and dismissal of all working Baha'is, Baha'i students were also prohibited from entering higher educational institutions in the Islamic Republic. "At the time of the Revolution, the approximate Baha'i population was five hundred thousand. If their numbers had been equal to the population of Iran, the proportional number of those executed would have been 32 thousand and their current prisoners would be more than 12 thousand individuals. The horrific discrimination implemented against this minority has turned the Islamic Republic into a real hell for the largest non-Muslim minority in Iran."[13]
Tumultuous account of one Baha'i, which briefly and appropriately describes the situation of at least 300,000 Baha'is residing in Iran
Rozita Eshraghi is a fifty-year-old Baha'i Iranian citizen, whose father, mother and sister were executed because they were Baha'is when she was 19 years old. Afterwards, all their family belongings were confiscated, her children were prevented from having a university education, her husband was imprisoned several times for being a Baha'i, and the cemetery where her family members were buried was destroyed by Revolutionary Guards. In writing of her sufferings, she states: "I am still standing. I am fifty years old now, weary and wounded, but still standing. The beginning of the years of my youth coincided with the beginning of the Islamic Revolution in Iran. My dear father, who had retired after thirty years of loyal service, abruptly lost his retirement payments. My older sister, who had been accepted into Shiraz University with excellent grades, was expelled after two years, following the Cultural Revolution and solely for being a Baha'i. I also was barred from entering university; however, we were told that if we stated that we were not Baha'is our family could go back to work and university again. In November 1982, our loving home was raided. My father, mother and older sister were arrested and were apparently taken to answer a few questions. Eight long and bitter months passed. The final verdict was issued. "Either Islam or death by execution" My family members were under the harshest oppression, threat, insult and torture. I was nineteen years old when I heard the news of the execution of my dear father, mother and sister. I was not even allowed to see their bodies, and after pleading with much fear, I was allowed to have a last visit for just a few moments with my family. I married a Baha'i youth who had also been expelled from university. Five months after our wedding he was sentenced to a one-year prison term for being a Baha'i. Time passed. When I had two children, a two-year old and the other a few-months old, my husband left for the mandatory national draft [during the Iran-Iraq war]. His commander bluntly told him that whoever had two children would normally not be sent to the front; however, because you are a Baha'i, even if you had a hundred children, you would still be sent to the front, and he sent him to the war zone. My children put up with all types of discrimination and abuse in school. I remember to this day that the third grade teacher of my child asked the children to bring ice to school for a science lab, but told my child not to bring any ice, because the water from his melting ice would be ritually unclean. The teacher also did not review my child's notebook, so as to avoid touching the notebook of a Baha'i child. My children were all gifted, but were not allowed to attend the school for gifted children, because they were Baha'is. Two of my children were accepted into the university; the first was discharged after three semesters of studying industrial design. The person in charge of university security told my child and my husband that we had uselessly occupied a space that could educate a Muslim child. My other child was suspended from school after 4 semesters studying accounting ‒ he was threatened that if he followed up on this matter he would be hit by a car in the street. My third child was barred from attending university using the deceptive and meaningless excuse of 'incomplete application'. My husband has changed more than fifteen jobs so far, just to be able to make a living in the country that he loves, and my children also inevitably will have to follow this path. Two years ago, on a hot afternoon in Ramadan, five Intelligence and Security officers came to our house. Again and again they violated our home and our family's privacy. They took my husband and nineteen other Baha'is, who were arrested on the same day in various cities of Iran, in the city of Yazd. For one month, they were under interrogation, investigation, and harassment. Now, they have been sentenced to two to five years of prison. When we went to Yazd to petition for justice, the deputy of the head of the Yazd provincial court told us: 'You are not citizens of Iran. You have no place in our laws. In my opinion you have no right to life. If it were up to me, I would know exactly what sentence to give you.' And recently, a cemetery in Shiraz belonging to the Baha'i community of Shiraz ‒ where my family members' remains are buried as well ‒ was bulldozed, and trucks removed the dirt to make sure no trace of thirty years of atrocities was left ‒ and you say that 'Baha'i are free.' We are not free even after death.[14]"
____
[1] In 1955, at age 29, Ayatollah Makarem Shirazi received the prize for the best book of the year from the hands of the Shah. On Tuesday, 27 March 1956, Ettela-at newspaper wrote: "The grand imperial prize was, as usual, given to Mr. Naser Makarem Shirazi, the author of the book "The pseudo-philosophers".
Makarem and his son-in-law are known as the kings of sugar in Iran. It is said that Ayatollahs Makarem and Mesbah pressured Iranian President Ahmadinejad's government to stop payment of subsidies to internal sugar producers. Thus, when there was a spike in the price of sugar produced in the country, sales were reduced to the advantage of sugar importers. The government also stopped domestic sugar subsidies. The result was the breakdown of internal production and layoffs of sugar industry workers. For example, in May 2006, 35,000 workers in the sugar-beet industry in Dezfoul – which is the largest producer of sugar in the Middle East – were dismissed. (Borrowed from: "Get to know Naser Makarem Shirazi better") (http://ir.voanews.com/a/last-page-11-20-2015-makarem-shirazi/3068183.html)
[2] Baha'ism is a political movement, connected to Zionism. (http://hawzahnews.com/detail/News/397816)
[3] Baha'ism is a political movement, connected to Zionism. (http://hawzahnews.com/detail/News/397816)
[4] Sunnis missing during the week of unity between Sunnis and Shias
[5] Sunnis missing during the week of unity between Sunnis and Shias
[6] Sunnis missing, during the week of unity between Sunnis and Shias
[7] Security and equality, rights of Sunnis of Iran
[8] Security and equality, rights of Sunnis of Iran
[9] Severe objection of Sunni leaders in Iran to the executions
[10] Amnesty International condemned Iran for forced confessions under torture
[11] Sunnis in Iran: "Religious brother" or "Wahhabi Salafis"?
[12] "Dehumanizing" Baha'is in Iran; "worse than Apartheid"
[13] We condemn inhumane and barbaric oppression of Baha'is, and discrimination and tyranny implemented on them!
[14] Look at me – A letter describing the sufferings of Rozita Eshraghi (http://iranpresswatch.org/post/10960/)