Source: www.bahaicamp.com
Translation by Iran Press Watch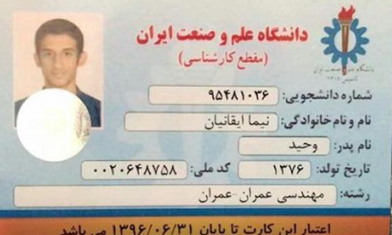 According to a report from the "No to the Harassment and Imprisonment of Baha'is in Iran" Campaign, Nima Ighanian, a Baha'i resident of Tehran, was expelled from university because of his belief in the Baha'i Faith. According to the reports, after passing the college entry exam with a top tier rank of 155, Mr. Ighanian began his studies in Civil Engineering at the University of Science and Technology in Iran. However, when he tried to access his student account on the university's website, he learned his account had been closed.
Mr. Ighanian learned from university officials that he was expelled and his registration had been cancelled. He was told to follow-up with the National Organization for Educational Testing. When Mr. Ighanian contacted the National Organization for Educational Testing to enquire as to the reason for his expulsion, officials informed him that it was due to his belief in the Baha'i Faith. The officials added that they were simply carrying out an order received from the Ministry of Information. They further added: "according to the Bill of the Council of the Cultural Revolution, you have no right to the higher education."
Since the Islamic Revolution in Iran, Iranian Baha'i students have been systematically expelled from universities for nothing more than their religious beliefs.