Source: www.iranhumanrights.org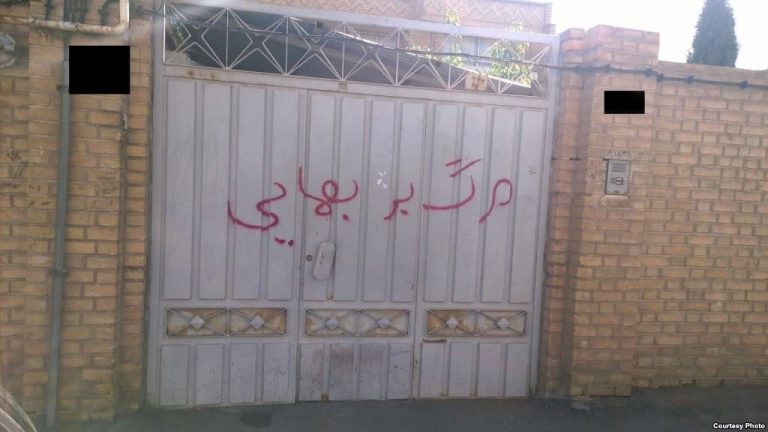 Fifteen Baha'i Students Expelled in December and January
At least 15 Baha'i students were expelled from Iranian universities between December 2016 and January 2017, with university officials trying to eliminate any trace of the ongoing discriminatory policy, which follows governmental policy.
One of the six Baha'i students who were expelled from the Islamic Azad University of Roudehen, east of Tehran, told the Campaign for Human Rights in Iran that university officials forged documents to make it appear like the students had opted to drop out.
"Initially, the university administration told me that my documents were incomplete," said the student, who asked not to be identified for security reasons. "Then I was told that I should go to the security office, and then they referred me to the chancellor's office. Some official there asked if I was a Muslim. I told him I had passed the Islamic theology exam to enter the university, but that I'm a Baha'i. He said if you're a Baha'i, write it down here on this document. I wrote it down and now I think I actually gave them what they needed to expel me."
The student continued: "A few days later when I checked the university's website, I noticed I had been cut from the classes I had signed up for. I went to the enrollment office and they told me I had dropped out from the university. But what had really happened was they didn't want to officially expel us, so they instead wrote down that we had chosen to drop out. That's the most painful, shocking and unlawful thing the university officials could do."
The student also told the Campaign that they were forced to turn off their phones during a meeting at the university: "The head of the security office asked all of us to turn off our phones before entering his room. He spoke with a low voice that was barely audible; I think he was afraid we were recording him. We kept asking why we were expelled, but we never got a straight answer. He kept saying, you know the reason and you shouldn't have enrolled in the first place."
"He said he would prevent us from enrolling into other universities, too, and we shouldn't waste our time because the authorities wouldn't help us," added the student. "He said he had done us a favor by expelling us before we paid our tuition."
"When we asked, is it because we're Baha'is, he shook his ahead [in agreement] and said we knew the reason," said the student. "Then when we asked for our high school certificates, he refused to give them to us."
Official Policy
The student also described the ways in which Baha'i students are routinely discriminated against: "The university enrollment form doesn't ask you about your religion, instead you're given the option to answer questions about your faith (Islam, Christianity, Judaism or Zoroastrianism are the only options)."
"Baha'is usually choose to answer questions about Islam because they have all studied it in high school," continued the student. "That's what I and my friends did. I don't know how exactly they found out we're Baha'is."
The student will be filing a complaint without much hope for a positive resolution. "This has been going on for 37 years [since the Iranian revolution]. Every year, university security officials identify new Baha'i students and find excuses to throw them out. The students complain to Parliament, the Supreme Leader's Office, the President's Office, the Education Ministry, the Student Evaluation Organization and other offices to seek justice, but they don't get anywhere."
In addition to the six Baha'i students expelled from the Islamic Azad University of Roudehen, nine other Baha'i students were expelled from universities across the country between December 2016 and January 2017.
Morteza Esmailpour, the editor of Bahai News, confirmed the following: Maedeh Sadat Hosseini-Rad was expelled from Isfahan Technical University, Dorna Esmaili was expelled from Eram College in Shiraz, anf Farinaz Mokhtari and Jahangir Hedayati were expelled from Birjand Technical University.
In January 2016, almost a year before he was expelled, Hedayati was honored as a top computer science student at a ceremony attended by Supreme Leader Ali Khamenei's representative at the university, Esmailpour told the Campaign.
Esmailpour added that 219 Baha'i citizens were denied a university education after passing the national entrance exam for the 2016-17 academic year, including Nima Ighanian, whose exam result ranked 155th among one million applicants.
Iranian officials deny prosecuting Baha'is for their religious beliefs, but the Baha'i community is one of the most severely persecuted religious minorities in Iran. The faith is not recognized in the Islamic Republic's Constitution and its members face harsh discrimination in all walks of life as well as prosecution for the public display of their faith.
According to Article 1of Iran's Supreme Cultural Revolution Council's student qualification regulations, which were approved by Khamenei in 1991, students who take the national enrollment exam must be either Muslim or followers of other constitutionally sanctioned religions. Article 3 also states that if a student is discovered to be a Baha'i after enrolling in a university, he or she will be expelled.