Source: BahaiNews1
Translation by Iran Press Watch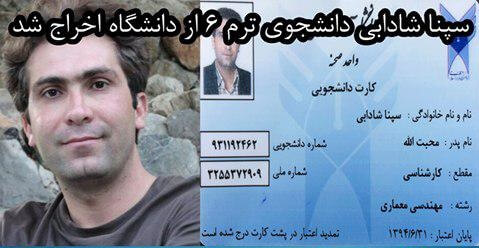 According to BahaiNews, Sepena Shadabi, a Baha'i resident of Kermanshah, was expelled from Kermanshah Islamic Azad University.
According to informed sources, this student, who had taken 104 credits and had finished all his final tests, was called into the security office of the provincial university. After inspecting his student ID card, the head of security asked him if he was a Baha'i, and he replied yes, he was.   The head of security then told Mr. Shadabi: "I was asked by the legal authorities to call you in and inform you that based on the Council of the Cultural Revolution writ, you are not allowed to attend university because you are a Baha'i."
The next day, the online student account of this student was closed and he was unable to enter the university students' site.
Sepna Shadabi was an architectural engineering student, who entered the university on October 2015 and was expelled on February 12, 2017.
Within the last month, over 20 undergraduate students from various universities across the country have been expelled because of their belief in the Baha'i Faith.
Preventing Baha'i students from entering universities in Iran is based on the writ of the Supreme Council of Cultural Revolution of February 25, 1991, that not only deprives all Baha'is of governmental employment but also prevents them from entering university.
Based on the third clause of this writ, the enrollment of Baha'i students should be prevented; if the Baha'i identity of any students is revealed ‒ whether after registration or during studies ‒ the student must be expelled and prevented from further studies.
This deprivation of the Baha'i community was systematically implemented after the Islamic Revolution and the Cultural Revolution in Iran.
_____
BahaiNews is an independent non-Baha'i initiative, and is not affiliated with any Baha'i institutions.