Source: BahaiNews1
Translation by Iran Press Watch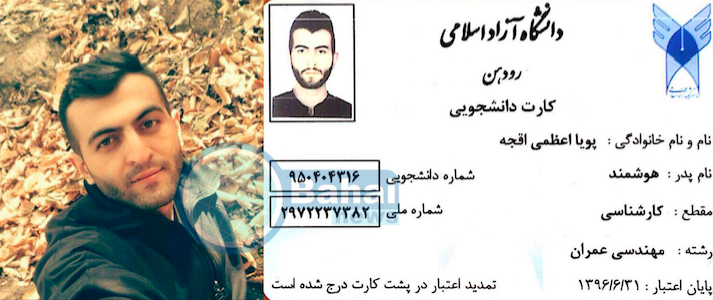 Based on a report from Baha'i News, Pooya Azami Aghje, a resident of Tehran, was expelled from the Islamic Azad University of Roudehen because of his belief in the Baha'i Faith. According to a report from Baha'i News, Pooya Azami was prevented from taking the final exam of the term. He was told that he does not have a right to study in this university because he is a Baha'i. This student was in a Civil Engineering undergraduate program. He was expelled after finishing his first term in January of this year.
According to an informed source, this student took his case to university security without any resolution being forthcoming from that office.
Within the last few months, six other Baha'i students were expelled from Roudehen University because of their belief in the Baha'i Faith. The prevention of Baha'i students from entering university in Iran occurs because of the writ of the Supreme Council of Cultural Revolution of February 25, 1991, which not only deprives all Baha'is of governmental employment, but also prevents them from entering university. Based on the third clause of this writ, the enrollment of Baha'i students should be prevented if the Baha'i identity of any student is revealed ‒ either after registration or during their studies ‒ the student must be expelled and prevented from further education.
This deprivation of the Baha'i community was systematically implemented after the Islamic Revolution and the Cultural Revolution in Iran.
_____
BahaiNews is an independent non-Baha'i initiative, and is not affiliated with any Baha'i institutions.