Source: BahaiNews1
Translation by Iran Press Watch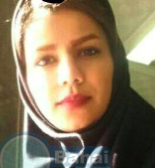 According to Baha'i News, Mahsa Sha'erzadeh, a Baha'i citizen of Ramhormoz in Khuzestan province, was expelled from Payam-i-Noor University because of her belief in the Baha'i Faith.
According to the same news agency, Mahsa is an undergraduate student majoring in applied chemistry. Although she finished all her final exams and successfully passed seventy units of her studies, she was summoned to the Information Office and put under pressure, and ordered to officially stop continuing her studies based on her belief in the Baha'i Faith.
According to a source close to this Baha'i citizen: "Miss Sha'erzadeh was put under pressure and was told, 'because you are a Baha'i, you don't have the right to continue your studies and should voluntarily stop and be expelled from the university.'" Miss Sha'erzadeh refused the instruction.
The same informed source added that, Miss Sha'erzadeh was finally expelled from the university without being given any official document, on the first of March, 2017).
Banning Baha'is from university is based on a document dated 25 February 1991, approved by the Supreme Council of the Cultural Revolution. This document states that, in addition, Baha'is are not permitted to be employed in any government office, and are not allowed to continue their education in higher institutions of learning.
Based on the third article of the same document, not only should Baha'is be stopped from enrolling at any university, but also if their identity as a Baha'i becomes known after the enrollment, they must be barred from continuing their education.
Banning of Baha'is has been systematically implemented since the Islamic Revolution and the beginning of the Iranian Cultural Revolution.
_____
BahaiNews is an independent non-Baha'i initiative, and is not affiliated with any Baha'i institutions.