Source: Baha'i International Community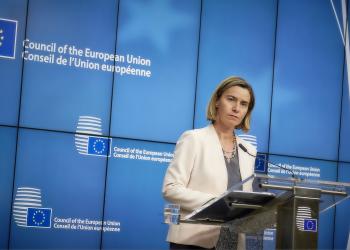 Brussels—
15 March 2017

—
Calling Iran's efforts to oppress Baha'i businesses a form of "economic apartheid," 13 members of the European Parliament and 19 MPs from seven national parliaments have signed a statement calling on Iranian authorities to immediately remove the obstacles that prevent Baha'is from earning a living in Iran and contributing to the progress of their country.
The statement, which was forwarded yesterday to H.E. Federica Mogherini, the European Union's High Representative for Foreign Affairs and Security Policy, begins by noting that Iran closed 132 Baha'i-owned businesses late last year.
Such closures are one of "many tactics" designed to undermine the Baha'i community as a "viable entity," the statement says.
"Other measures of the deliberate and government led economic apartheid against the Baha'is include categorically denying Baha'is access to governmental jobs, delaying or preventing them from acquiring private job licenses, pressuring companies to dismiss Baha'i employees, forcing banks to block Baha'i clients' accounts and depriving Baha'is from access to formal university education," says the statement.
Conveying the statement to Ms. Mogherini, Rachel Bayani, Representative of the Baha'i International Community in Brussels, said in a cover letter:
"We trust that the European Union, as it engages Iran in a substantive conversation about human rights, will give due regard to the nearly four-decade-long, systematic oppression of the Baha'i community in that country and include, in its dialogue with Iran, a plan for concrete steps to remove obstacles gradually so that the Iranian Baha'i community may contribute, on equal footing with its fellow citizens, to the advancement of their country," wrote Ms. Bayani.
In addition to 13 members of the European Parliament, national MPs from Austria, France, Germany, Luxembourg, Sweden, the Netherlands, and the United Kingdom, were among those signing the statement. The full statement and its list of signatories can be read here.
The cover letter from Ms. Bayani to Ms. Mogherini can be read here.