Source: www.iranwire.com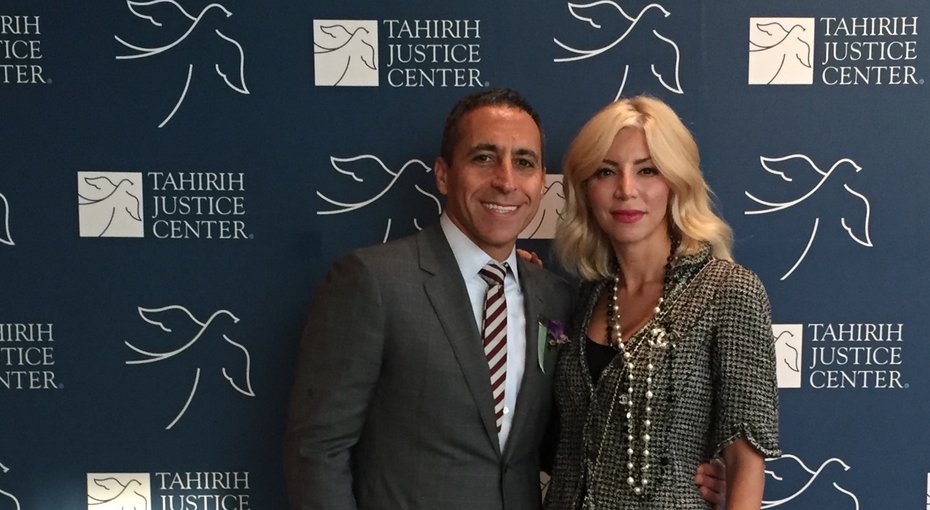 Payam Zamani is an entrepreneur, philanthropist and investor. His company One Planet Ops is a hybrid tech firm that runs a suite of online technology businesses in the real estate, home improvement, and automotive industries; invests in a broad range of new businesses including ecommerce, autonomous driving and other automation devices; and offers mentoring services to entrepreneurs, offering unique opportunities to recent graduates. The company's mission is to support strong business ideas while at the same time building a business ethos that helps improve society and gives back to communities – a philosophy they call "Innovation + Intention".
Zamani has lived in Silicon Valley since the early 1990s. Born in Iran, he was forced to leave the country as a teenager after facing religious persecution for being a part of the Baha'i community, Iran's largest religious minority. His early experiences as a refugee fleeing his own country has formed his approach to life, work and community engagement.
"As a 16-year-old in Islamabad, Pakistan, the first thing the US embassy did was hire a lawyer to fight for me so I would gain admittance to the US," Zamani says.  "I came to tears when I realized that I escaped human rights atrocities in my own country… and, here's a country that doesn't know me, and they're willing to fight, make a case in order to get me accepted to enter their own country. When I arrived, the way I was treated in this country was with the utmost respect. They allowed me to grow and make a life for myself."
Today, in addition to the business mandate of One Planet Ops, Payam and his wife Gouya support the Tahirih Justice Center, which works with immigrant women and girls fleeing violence, and support the Equal Justice Initiative, which is currently building a monument in Montgomery, Alabama honoring the lives of African-Americans who were the victims of lynching after the Civil War.
"I think it's so important for immigrants to take the history of this country seriously," Zamani says. "Because I'm benefitting from years of history, and how this country has been built. And partly, it has been built as a result of some injustices done in the past."
A Harrowing Experience
Prior to leaving Iran, Zamani experienced brutal discrimination, the result of the Islamic Republic's persistent campaign to turn Muslim Iranians against the Baha'is.
"When I was 11 years old, I was expelled from school," he says. "Often they would ask me and another Baha'i friend of mine in school — there were only two Baha'is in the school of 400 or 500 students — to join the daily mass prayer. We'd say that we had the utmost respect for the Muslim faith, but we are Baha'is, and we have our own prayers, so it really didn't make sense for us to join the mass prayer for Islam."
One day, they discovered that as part of his daily sermon, the school's religious leader had expressed plans to "get rid of the Baha'i kids." What followed was an ordeal that helped shape the rest of Zamani's life.
"About 100 students were outside of the school waiting for us, with sticks and stones and whatever they could gather," he says. "As teachers and the faculty were leaving, we asked them to please take us with them, or else God knows what would happen… and nobody did. For a period of about a mile, they [the kids] beat us, they threw rocks at us, they spit on us, to the point that by the time we got home, I was literally wet from head to toe with spit, and bloody. It's always shocking to me that I survived that episode. I don't know how or why I survived."
Soon after, Zamani's parents arranged for him to leave the town, Hashtgerd, and move in with his sister in the capital, about 75 kilometers away.
"In Tehran, it was a bit more of a melting pot," Zamani says. "Let's put it this way: as far as I know the Iranian government did not have a very specific request sent out to all the schools in the country. So a lot of these things happened as the local governments and authorities would choose, and they decided whether or not to take action."
In 1993, an official working for the United Nations discovered an Iranian government document from 1991 that outlined the Islamic Republic's policy toward Baha'is. Signed by the Supreme Leader, the document explicitly called for government officials to block the Baha'i community's progress and prevent them from attending universities.
"In 1987 my parents paid smugglers to get me to the other side, to Pakistan. It was a complicated and dangerous journey," Zamani says. "I feel that twice in my life I made it through something where there was a high likelihood of not surviving."
After saying goodbye to his parents — not knowing whether or not he would ever see them again — and traveling through the desert with people he didn't know, he spent a year in Pakistan before arriving in the United States. Today, he and his family all live there.
Giving Back to the Community
In the United States, Zamani studied Environmental Toxicology at the University of California at Davis before beginning to launch start-up companies during the dot-com boom of the 1990s. Among his companies were autoweb.com, the first platform for buying cars online, which he started with his brother. As he continued to build businesses, he knew he had to give back to the community that had been so good to him.
"When One Planet Ops invests in an entrepreneur," Zamani says, "he or she is required to sign an agreement to commit some of the company's resources — whether its financial or human resources, or through the product or services that it offers — to the 'betterment of the world'".
One Planet Ops also gives its employees five "service days" a year, which fall on Baha'i Holy Days: paid days where individuals can give back to their communities in whatever way they choose. "It could be volunteering at their kids' school, it could be at a local homeless shelter, or giving blood — whatever it may be," says Zamani. "We believe in sacrificial giving, and in the importance of participating and becoming an agent for the betterment of the world, regardless of how small your impact may be."
So what has it been like for Zamani as an Iranian-American over the last few months, and in particular since President Donald Trump's executive order and the legal battles that followed?
"Baha'is believe that when you see injustice, it doesn't matter toward whom, we have to stand up for them, and we have to seek justice," Zamani says. "When the lawsuit [against Trump's executive order] was filed by the state of Washington, and ultimately found its way to the San Francisco court, the Tahirih Justice Center filed an amicus brief as part of that lawsuit."
He marvels at the way people clubbed together to defend those affected by the order — but he was also shocked by some responses he received on Facebook.
"In general people have been extremely supportive and loving but there have been a couple of messages suggesting that maybe I should go back to Iran," Zamani says. "I've employed a lot of people here in the US, and have created many jobs. I've got no other citizenship but US citizenship, and I care deeply about the wellbeing of this country. So I take that very personally and very seriously."
The events in the US in recent weeks have also highlighted the fact that, while so many Iranians of all backgrounds stood up for the rights of Muslim immigrants coming to the US, few Iranians have stood up for the rights of Baha'is in Iran.
"So many people stood for the rights of their Muslim brothers and sisters from all these countries that are being singled out," Zamani says. "I wished that when the Baha'is of Iran were treated the way they have been for almost 40 years — even today they still don't have the right to go to university — that more of my own Iranian Muslim brothers and sisters who live outside of Iran and have no reason to be worried about its ramifications would say something about the plight of the Baha'i citizens of their own country and show their support. They are not immigrants in Iran — they are the citizens of that country."
Zamani sits on the board of directors of the Tahirih Justice Center, and his wife is the co-chair of the organization's campaign to raise $10 million to expand its services. He is proud of the center's work, as well as the work of Equal Justice Initiative, which aims to help heal some of the wounds so prevalent in the United States today, including racism.
"I hope that we can play a small role in bridging the racial divide," he says.
Full Circle Learning, another non-profit One Planet Ops supports, focuses on education, one of the central tenets of the Baha'i faith. Zamani and his wife set up BahaiTeachings.org, which discusses key issues affecting society today and shares the messages of the Baha'i faith. Zamani is the site's editor-in-chief.
The Bay Area's Persian community has demonstrated incredible leadership and philanthropy, he says, pointing to the example of the Pars Equality Center founded by fellow Iranian-American Bita Daryabari. It focuses on integrating the Persian community into mainstream American society.
One Plant Ops is also eager to invest in Iranian entrepreneurs and companies including Butterfleye, which is headed up by an Iranian-American entrepreneur. At the moment, Zamani is waiting for US Treasury Department clearance so he and his wife can establish a non-profit organization working with the Iranian youth in Iran, which he says might even be something the new Trump administration would support.
"I think we could even argue that the US government can potentially view it as a model," Zamani says. "Who knows, maybe that will result in fewer people wanting to migrate to the US, if we can empower the youth in their own home country, if we can help them build better lives for themselves."