Source: www.dw.com
Translation by Iran Press Watch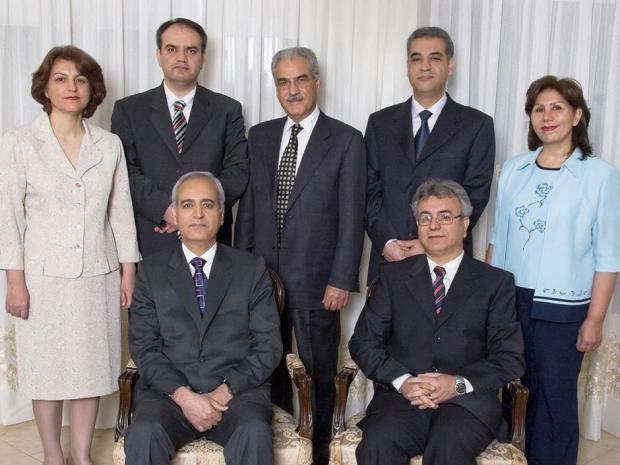 In between widespread election photos and posts, a group of Iranian social media users remembered a group of their compatriots whose most basic rights are not the topic of any election. They Tweeted in support of the Bahá'ís.
On the verge of the May 19th elections, the main discussion topic and most news-worthy item on social media is the election campaign activities.  Some users have become the media spokesperson for their favorite candidate, and some criticize or sabotage the contending candidate.  However, among these discussions are other topics that social media users cannot ignore. One of these topics is the issue concerning the Baha'is of Iran whose basic rights is not the topic of any election:
I am still baffled by the Quran teacher who did not accept the meals I offered but accepted them from my Shi'a classmate.  I wish prejudice did not exist.  Let's be united. (Yasaman Adel)
هنوز برام سواله، اون معلم قرانى كه از من خوراكى تعارفي نميگرفت، از رفيق شيعم ميگرفت
كاش تعصب نبود، بياين همراه باشيم… #همراه_بهاییان

— yasmangoola (@yasamanadel74) May 14, 2017
On the verge of the ninth anniversary of the Iranian Bahá'í Community leaders' imprisonment, a group of Persian-speaking social media users invited others to start a "Twitter Storm" on May 14th with the hashtag #همراه_بهائیان, which means "standing with Baha'is" in Persian.[1]
Those who Tweeted with these hashtags have described their personal experiences with the Bahá'ís. Among these Tweets are posts by classmates of Bahá'í students who have been denied higher education and prisoners who have posted about their experiences of sharing a prison cell with Bahá'í.  Of course, some users make the same old accusations against Bahá'ís using these hashtags.
My best friends in prison were the Bahá'ís.  I learned a lot from them.  They were kind, committed, and patient.  Naeimi, Khanjani, and Rezai, I miss seeing you. (Bahman Amouee)
بهترین دوستان من درزندان بهائیان بودند.بسیار از آنها یاد گرفتم.مهربان، متعهد و صبور.نعیمی,خانجانی و رضایی دل تنگ دیدنتان هستم#همراه_بهائیان

— Bahman Amouee (@BahmanAmouee) May 14, 2017
Relatedly, on the occasion of the ninth anniversary of Iranian Bahá'í leaders' imprisonment, the United States Department of State posted a statement in Farsi on its Facebook page.[2]  The spokesperson for the Department was quoted in this statement, referring to the "unjust conviction" of the Iranian Bahá'í leaders:
"Their case is another evidence of the on-going neglect and violation of human rights and fundamental freedoms by Iran.  We condemn their long-lasting imprisonment as well as the reports regarding their harassment during their detention and ask Iran to immediately release them and other prisoners of conscience."
Mahvash Sabet has been imprisoned since early March 2008; Fariba Kamalabadi, Jamaleddin Khanjani, Afif Naeimi, Saeid Rezai, Behrouz Tavakkoli, and Vahid Tizfahm have been in prison since late April 2008.  These individuals were members of a committee called "Yaran," which was responsible for managing the affairs of the minority Bahá'í religion of Iran.  The Islamic Republic's judicial system, however, accused them of having connections to foreign countries, acting against Iran's national security, spreading propaganda against the Iranian Regime, and engaging in corruption.
Mahvash Shahriari, Fariba Kamalabadi, and Nasim Ashrafi were among the most moral and righteous human beings I have known in my life. (Marzie)
مهوش شهریاری، فریبا کمال‌آبادی و نسیم اشرفی از بااخلاق‌ترین و درست‌کار‌ترین آدم‌هایی هستند که در یک دوره از زندگیم شناختم#همراه_بهائیان

— Marzie (@marzie_r) May 14, 2017
_____
[1] Similar hashtags in English have been used, such as #ReleaseBahai7Now and #NotAnotherYear.
[2] The United States Department of State also posted a statement in English on its website.